Gardyn's indoor garden kit is made for the urban dwellers of today: no soil, minimal maintenance, and maximum results. Explore a high-density grow system that lets you harvest pesticide-free produce — all from the comfort of any indoor space. Join us as we change the future of food today.
Improved technology to boost your plants
Automated water and light schedule
Hybriponics™ Is The Key To Maximum Yield
Grow more with less. Gardyn's indoor vertical garden kits come equipped with novel Hybriponics™ technology, which works to conserve resources and energy — all while optimizing results through smarter nutrient delivery, enhanced airflow, and better water management. The result? A more bountiful harvest: up to 10 times the yield of conventional, soil-based gardening. Plus, with significantly higher nutrient density than anything store-bought.
Learn more about how our indoor garden kit can transform your eating habits starting now.
It's easy to get started — just set up the Gardyn Home device and app, pop in your seeds, then sit back and watch it all happen! Prepare for harvest in 4-5 weeks. With built-in self-sustaining water management, real-time remote alerts, and an intelligent AI gardening assistant, you can trust your indoor vertical garden to make the right decisions for you, no matter your level of gardening expertise.
Enjoy delicious, abundant harvests with remarkable results, even in places with limited space and inadequate natural light, such as your living room, basement, or workspace.
Grow What You Love To Eat
Go from seed to harvest in just five weeks (or one for microgreens!) From kale to cherry tomatoes, cucumber to romaine, and so much more — there's no limit to what you can grow with your Gardyn at home hydroponic system.
Grow to be Healthier than Ever
The world's most nutrient-dense produce, straight from your personal indoor hydroponic garden kit. No pesticides, herbicides, or soil disruption — far superior to anything you'll buy off shelves.
Say goodbye to seasonal harvests! With Gardyn, you can enjoy fresh produce from your own indoor garden kit all year round. And when you want a change of taste, it's as simple as ordering new yCubes and swapping them out for a whole new budding adventure.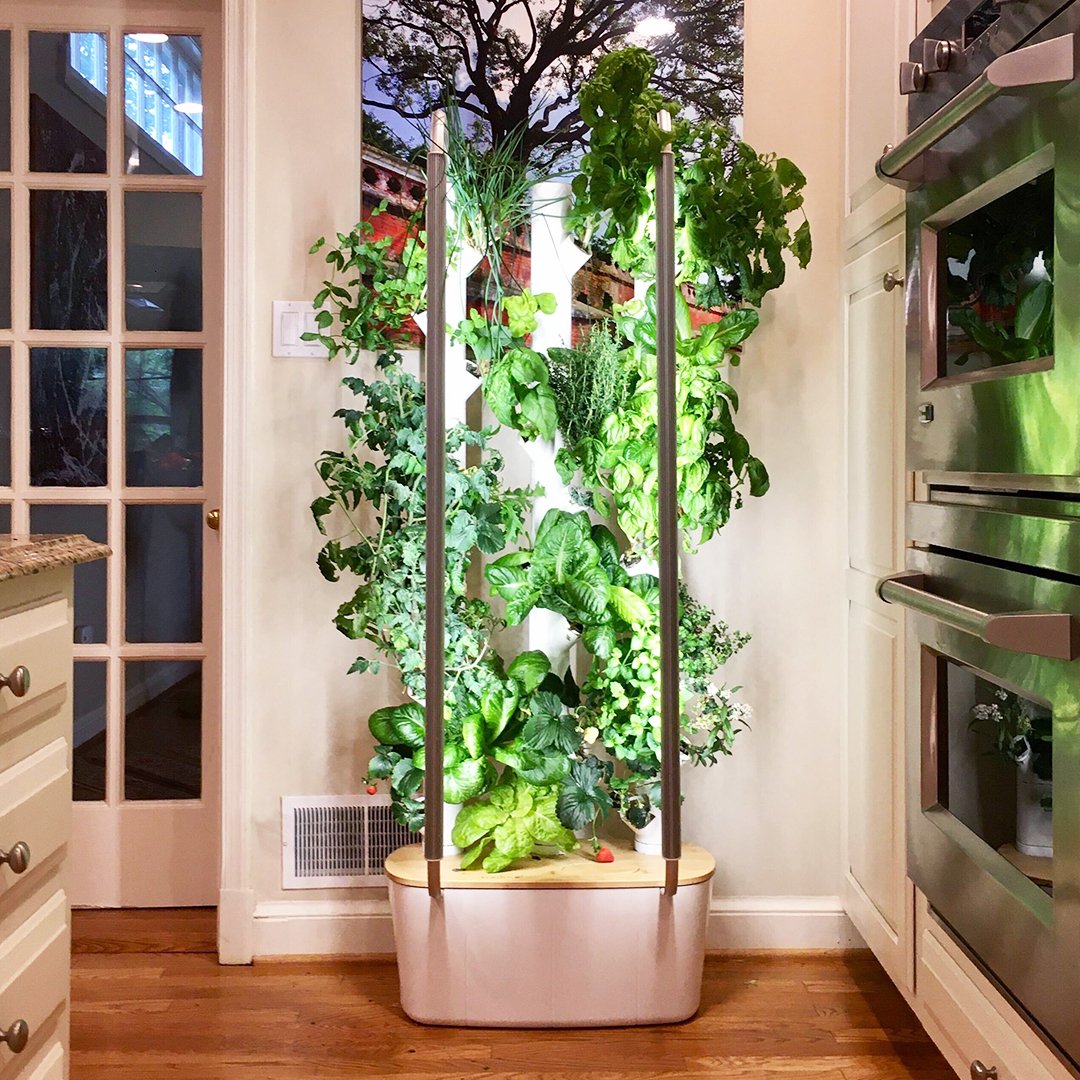 Why Gardyn's Indoor Garden Kit?
Beyond experiencing the sight of seeing your crops grow in front of your eyes: Gardyn turns indoor spaces into thriving green oases. If that's not enough to convince you, think about the financial and personal benefits of having your very own indoor garden kit:
When you can reap 8-10 pounds of fresh, pesticide-free produce per month, you can be sure you'll be making savings. Say goodbye to over-priced organic veggies at your local supermarket.
When you have technology on your side, you can take out all the tiring tasks of gardening. Kelby will monitor and give you personalized recommendations at different growth cycle stages so all you have to do is just add water, add plant food, and let Gardyn take care of the rest.
What's Nature's Next Big Thing?
Gardyn's indoor garden kit is a revolutionary first step into the world of hydroponics. This isn't just an easier way of gardening — it's a simpler, smarter way of living. Discover what it's like to harvest your own fresh, top-quality produce.
Grow Four Tasty Varieties
Simply add water and watch your greens grow from seed to harvest in as little as 7 days.
Gardyn vs Lettuce Grow
Gardyn vs iHarvest