Harvest fresh produce year-round with little to no maintenance. Enjoy incredible return on investment; get up to 10x the yield of traditional soil gardening, pesticide-free, and nutrient-packed — all from your very own aeroponic tower garden. And the best part? No green thumb or gardening experience necessary. Your Gardyn device just knows what to do.
Improved technology to boost your plants
Automated water and light schedule
Elevate Your Greens With Gardyn
We're here to change the way food is grown and enjoyed at home — starting with drastically reducing how much work it takes to grow your crops. Our proprietary Hybriponics™ technology is built into all our Gardyn Home tower farms, presenting a novel combination of hydroponic and aeroponic elements — in one conveniently-sized, self-sustaining design. Our aeroponics tower is the only indoor garden system that grows up to 30 large plants in a 2 sq. ft. space, all while saving up to 95% water compared to traditional systems!
Learn more about how our aeroponic towers are revolutionizing modern food.
The Future of Urban Produce: Grow More While Doing Less
Both hydroponic and aeroponic gardens require more monitoring than conventional methods. Temperature, light, and nutrient solution conditions must be adjusted constantly for optimal growth. Fortunately, with Gardyn, all that is automatically taken care of. Our Gardyn Home kits run on Kelby, your personal AI gardening assistant, and are equipped with cameras as well as temperature and humidity sensors to monitor plant health 24/7. Simply adjust your settings once in the app, and let Kelby take care of the rest.
More Plants at Your Fingertips
Easily replenish your Gardyn or try something new entirely. Simply access the order menu on your Gardyn app and order from our constantly evolving plant catalog.
Kelby provides clear, simple tips and instructions at every stage of the growth process. From seeding to harvesting, you'll be able to confidently grow your own food with no hassle or frustration.
Set a schedule, and Kelby will automatically provide the exact amount of water and plant food your plants need. Your smart assistant can also adjust the lights for you. This combinations ensures optimal yield and nutrient-rich produce.
Gone for a few days or weeks? Vacation Mode pauses your plants' growth and keeps them fresh and thriving for when you come back.
Build time-lapses of your plants, record them with your own comments, and share them with your friends and family. Be proud of your homegrown success!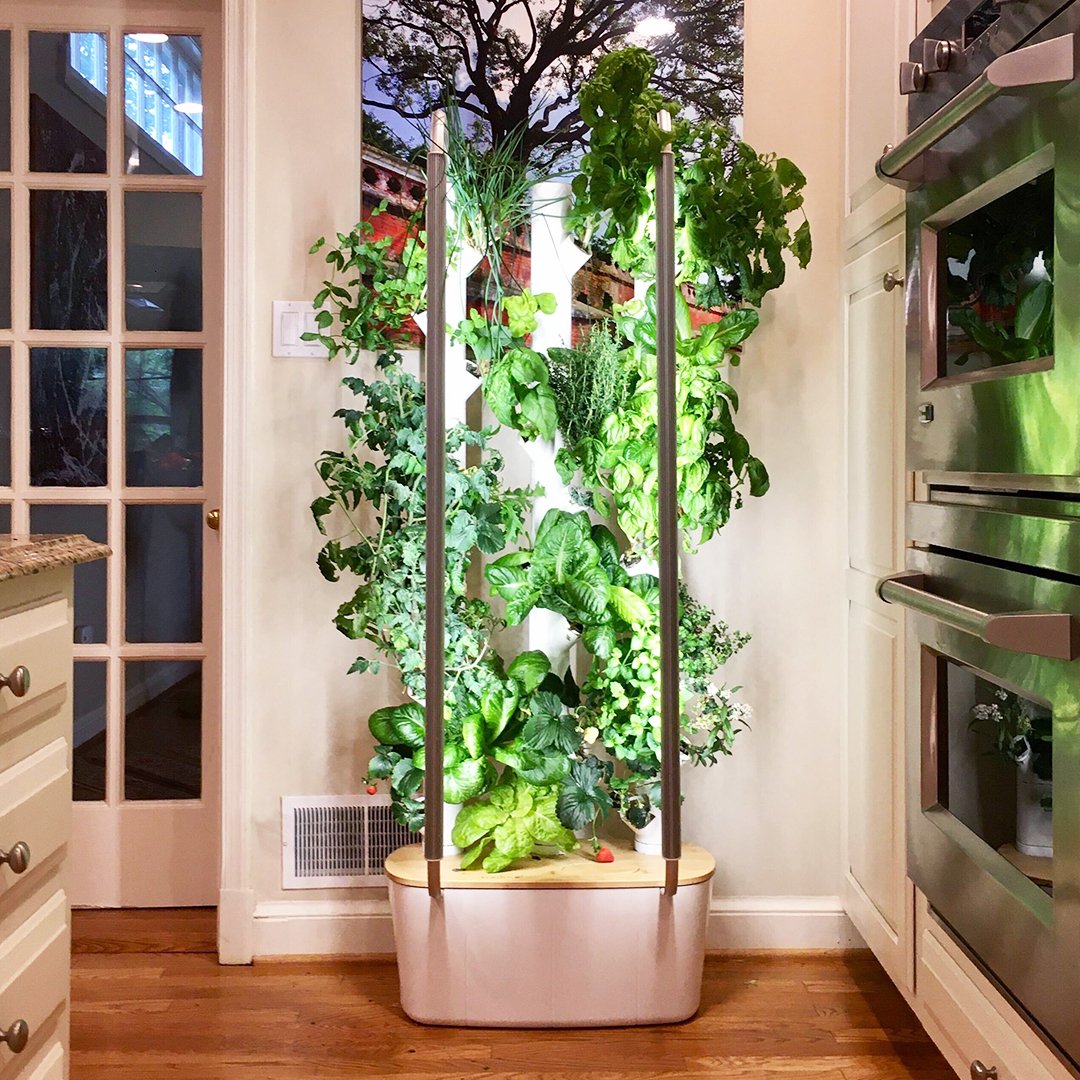 Why Gardyn's Aeroponic Tower?
Keep your favorite flavors and improved nutrition within arm's reach, year-round. Fruits, veggies, herbs, and microgreens — you name it! Each Gardyn hydroponic/aeroponic tower is designed to produce the best and most consistent harvests indoors. No soil, no fuss, just the best-tasting, most nutrient-packed produce.
It's time to ditch the grocery greens — and try Gardyn today.
Grow Four Tasty Varieties
Simply add water and watch your greens grow from seed to harvest in as little as 7 days.