Welcome to the world of smart gardening with Gardyn. We focus on bringing nature's beauty and health benefits into any controlled environment. We are dedicated to creating innovative solutions for cultivating fresh, tasty, and nutritious produce in compact spaces. Our hydroponic systems provide an efficient and sustainable way of growing plants without soil, using minimal water and energy resources. With our nutrient packed fruits and veggies, you're only inches away from waving good-bye to grocery bought produce and hello to a new age of sustainable and delectable food with our indoor smart garden.
Improved technology to boost your plants
Automated water and light schedule
Redefining Urban Farming with Smart Gardens
Gardyn makes smart gardening easy. We're not just your average hydroponics company – we're redefining urban farming with our innovative gardening technology. Frustrating setups and outdated tools can go out the window. Our plug-and-play system is easy to assemble; even the least handy person can handle it. With automated water and light schedules as well as our Ultrasonic water sensor, your plants will thrive without any extra effort on your part.
Start growing smarter with Gardyn today. Join our community of gardeners and get ready to experience the future of urban farming.
Enjoy Fresh Produce at Home All Year Round
Gardyn believes every home should have access to fresh produce all year round. We offer smart gardens designed for maximum efficiency and minimal maintenance. With our patented Hydriponics™ Technology, you can enjoy fresh produce while conserving up to 95% of water consumption compared to traditional gardening methods. Don't sleep on our Vacation Mode feature; you can monitor your smart garden while you're away. Return to ready-to-eatproduce after up to two weeks.
Gardyn is committed to helping you grow the best produce possible. Take advantage of our newly launched growth modes. They automatically adjust water levels and led grow lights levels according to each stage of plant growth. The fully redesigned lid on our smart garden kits is more durable, making maintenance easier.
Our smart indoor gardens take the time and effort out of traditional gardening. Kelby, the AI-powered gardener app, looks after your garden 24/7 so you can enjoy a hassle-free experience. Get automated watering, predictive maintenance, and constant plant health monitoring – all with no effort required.
Reduced Environmental Impact
Gardyn is dedicated to a more sustainable future. And our smart garden systems are designed to use fewer natural resources with minimal environmental impact. We use recyclable materials and reduce packaging waste, while our hydroponic systems are energy efficient.
Accessible and Affordable
Our starter set options provide an easy way to get started. You'll receive a variety of plant seeds chosen specifically for you to help you set up your smart garden within minutes.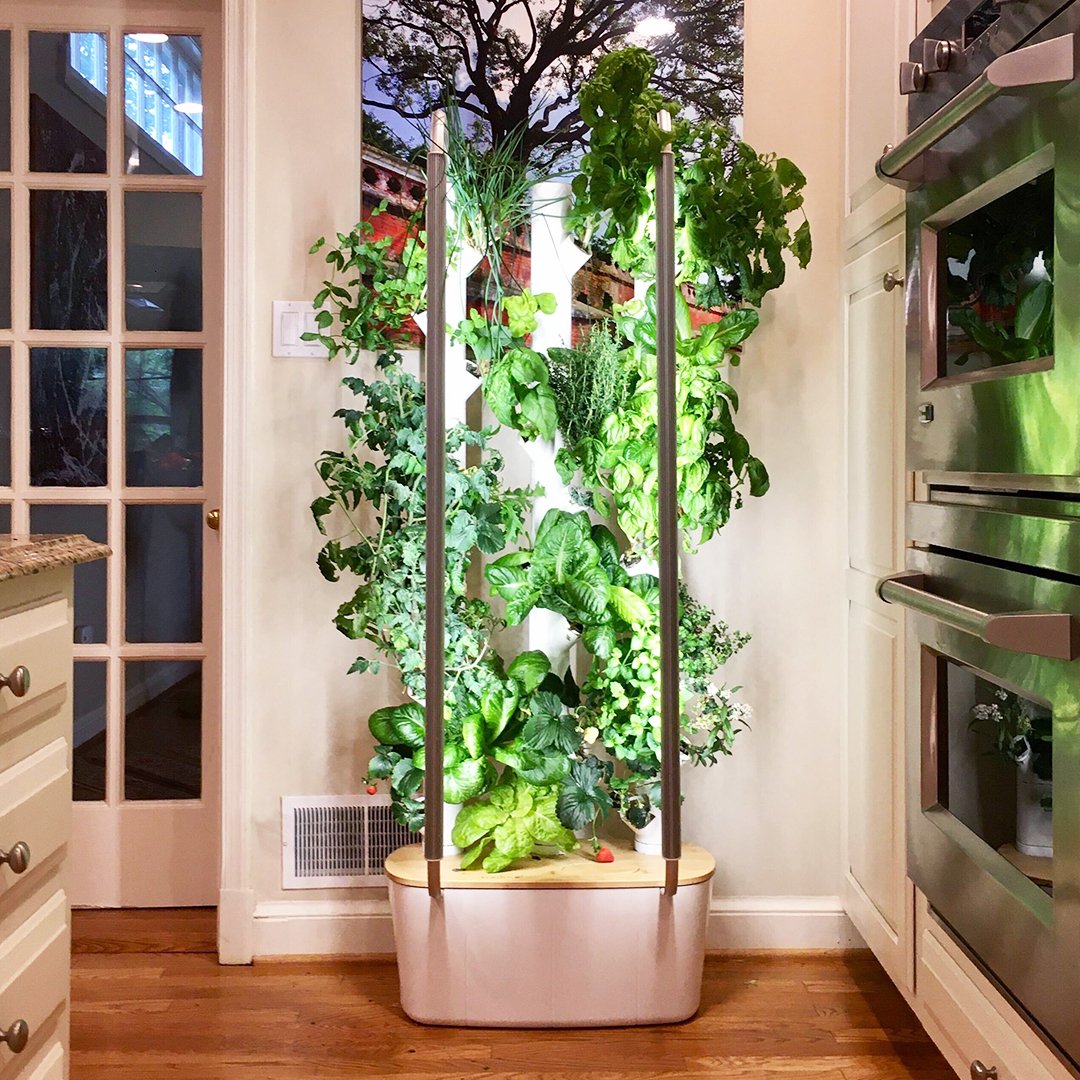 How Gardyn Deals with Self-Watering Plants?
Gardyn's built-in water management technology simplifies your gardening experience. Our Ultrasonic Water Sensor ensures optimal moisture in the root zone without over-watering the plants. You can also set up an automated irrigation schedule with our AI-powered growth assistant Kelby. With Gardyn, you can spend less time worrying about your plants and more time enjoying your smart garden and your harvested food all year round.
Ready For A Healthier And Greener Way Of Life?
Say goodbye to soil messes and extra fertilizers — say hello to nature in all its glory. With resources dedicated to improving nutrition while limiting environmental impact — now is the perfect time to explore our smart gardening solutions.
The best indoor smart gardens make growing herbs, fruits, and veggies this much easier. And there are plenty of us out there doing the same. Why not find out more about working together towards a healthier lifestyle? Join our community of smart gardeners today and experience the one best indoor garden designed your very own home.
Grow Four Tasty Varieties
Simply add water and watch your greens grow from seed to harvest in as little as 7 days.