How to Grow Thyme at Home?
Thyme, also known as Thymus vulgaris, with its delightful fragrance and culinary versatility, is a must-have herb for any gardening enthusiast or cooking aficionado. But why limit yourself based on the changing tides of mother nature or the size of your outdoor space? By growing thyme at home, you not only have a convenient and accessible source to spruce up your recipes, but you can also expand your own herb garden oasis by adding other delicious and flavor-packed greens.
So, if you're ready to embark on a flavorful journey into the world of growing thyme at home, join us as we reveal top tips and tricks that will help you master the art of cultivating this cherished herb.
Tired of buying expensive "fresh" herbs only to put them to waste within a couple of days? Let Gardyn be your trusted companion in creating a thriving herb garden that brings optimal freshness and flavor to your culinary life. Gardyn's Home Kit 3.0 makes indoor gardening easy for both city and suburban dwellers alike.
Engaging in frequent harvesting assists in prolonging the plant's lifespan. Once the crop reaches a length of 8-10 inches, carefully snip the top of the plant, specifically the green stem and not any woody sections. It is important to leave at least 5 inches of the plant intact. For the highest potency, harvest the plants just before they begin to flower. Consistent trimming of your thyme will stimulate fresh growth and contribute to a more rounded shape.
Grow Your Favorite Produce
With Better Taste and Zero Waste
You don't have to be a seasoned gardener to know that growing thyme indoors offers a range of benefits.
Always have thyme within arm's reach
Growing thyme at home allows you to enjoy an infinite growing season of fresh herbs throughout the year. While thyme plants outdoors may go dormant during the winter months, indoor cultivation allows for continuous growth and harvest, which means more hearty herbs to liven your favorite dishes.
Find pleasure in minimal "human" care
Thyme is a hardy perennial herb that requires minimal care. Its woody stems and small leaves make it a perfect addition to any herb garden, whether you're a beginner or have an acquired green thumb.
Enjoy health benefits and endless culinary delights
Having thyme in your kitchen is truly convenient, as it provides delightful flavors and health benefits. Packed with antioxidants and nutrients, thyme can boost your immune system and improve digestion. It also adds a distinctive taste to various dishes, including roasted meats, soups, sauces, and marinades.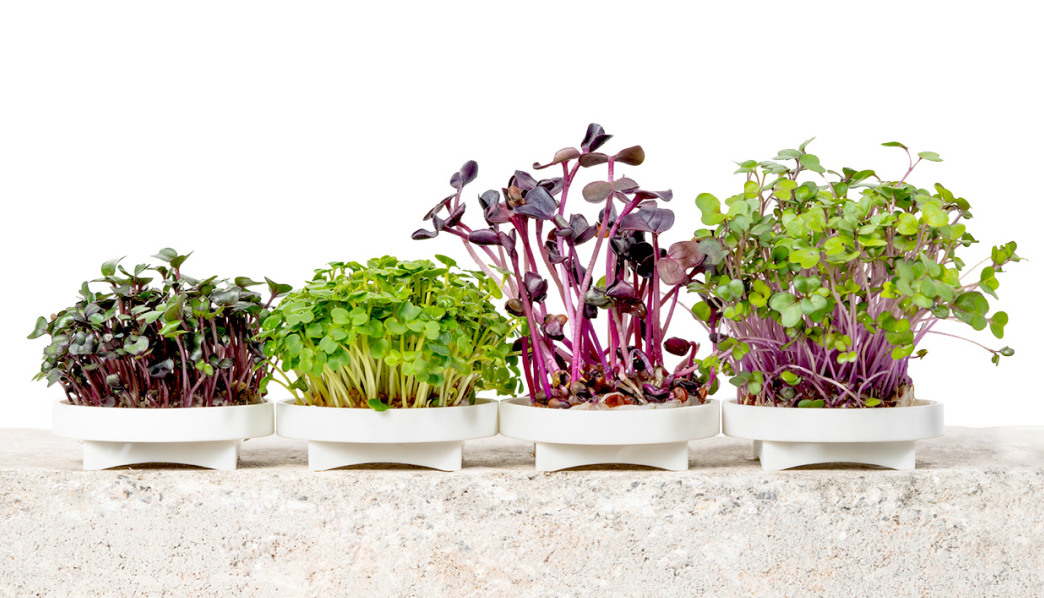 Bite sized superfood packed with nutrients and loaded with flavor. Go from seed to harvest in just one week.
What do You Need to Grow Thyme Indoors?
Although growing thyme in your home might seem complicated, it is in fact relatively simple if you have the right items. From choosing the right seeds to finding the perfect soil, we'll guide you through the process of creating a thriving environment for your thyme to grow:
Start by picking among all the varieties of thyme (Common thyme, Lemon thyme, French thyme, German thyme…) that you want to grow;
Choose a container that has good drainage to prevent waterlogged soil, that may otherwise cause root rot and other bacteria to form;
Opt for a growing pot that is at least 6-8 inches deep to accommodate thyme's root system. Depending on your preferences, you can choose from various materials like terracotta, plastic, or even ceramic;
Ensure your potting mix allows excess water to flow freely, as thyme prefers well-drained soil. A blend of potting soil, sand, perlite, or vermiculite works well. You can also consider using a pre-packaged herb or all-purpose potting mix that'll provide you with the right balance of nutrients and drainage;
Start with young thyme plants or seedlings rather than growing from seeds. Consider this a head start as you can easily skip the germination process.
Or if you're looking for a convenient all-in-one solution that takes the guesswork out of gardening, you might want to consider another alternative! Equipped with the latest in Hybriponic™ technology, Gardyn's cutting-edge indoor gardening system provides optimal growing conditions, including controlled lighting, automated watering, and space-saving design. With your very own Gardyn Home Kit, get ready to easily grow thyme and other herbs right in your home, regardless of your gardening experience.
How to plant Thyme at home?
Follow these instructions step by step to successfully plant thyme indoors and enjoy fresh herbs all year-round. Whether you're using traditional pots or the innovative yCubes provided by Gardyn, this guide will help you get started in a snap.
Step 1: Prepare your container
You can use a traditional pot or consider using the yCubes provided by Gardyn, which are specially designed for their indoor gardening system. Fill the container with a well-drained potting mix.
Gently remove the thyme plant from its nursery pot. If using a Gardyn system, carefully remove the yCubes from its packaging. Then penetrate a small hole in the potting mix and place the thyme seed into it. Ensure the top of the root is leveled with the soil's surface. If planting multiple thyme plants, space them at least 5 inches apart to ensure optimal growth.
Step 3: Water your plants
After planting, water the young plants thoroughly to settle the soil or yCubes. If using traditional pots, water until you see water draining from the bottom. For the Gardyn system, follow the watering instructions provided with the yCubes.
Step 4: Find the perfect location
Thyme thrives in full sun, so select a location in your home that receives ample sunlight throughout the day. A south-facing window or a windowsill is ideal for providing the necessary daylight. Alternatively, you can use artificial grow lights to supplement natural light if needed.
How to Care for Your Thyme?
Proper care is essential to ensure the health and vitality of your thyme plants. By following these simple steps, you can enjoy abundant growth and flavorful harvests. Whether you're using traditional pots or benefiting from the convenience of Gardyn's advanced technology, caring for your thyme should be a breeze:
Water your thyme thoroughly, allowing the soil to become slightly dry between waterings. Make sure not to overwater as this can lead to root rot, so it's important to strike a balance;
Feed your thyme plants occasionally with a balanced, water-soluble fertilizer. This provides the necessary nutrients to guarantee healthy growth and a robust flavor;
Regular pruning promotes bushier growth and prevents the plant from becoming woody. Trim back the stems by cutting just above a leaf node. This encourages new growth and maintains the compact shape of your thyme plants;
Thyme is a hardy herb that can tolerate a wide range of temperatures. Keeping a constant temperature hovering between 60 °F and 70 °F will avoid exposing your thyme plants to extreme cold or hot conditions.
Generally resistant to pests and diseases, it's still important to keep an eye out for common garden pests such as aphids, spider mites, or whiteflies. If you notice a presence of any of these insects, treat your herbs with organic pest control methods.
Enjoy a Rewarding and Delightful Harvesting Experience
Harvesting and utilizing your fresh thyme is a rewarding experience that adds incredible flavor and fragrance to your culinary creations. Discover the joy of harvesting your homegrown thyme and explore various ways to incorporate this versatile herb into your favorite dishes. Whether you're a seasoned chef or an aspiring cook, thyme will elevate your meals to new heights!
How and when to harvest your thyme?
Begin harvesting your thyme when the plant has reached at least six inches of growth in height. This allows the herb to establish a strong root system before you start enjoying its flavorful leaves.
To harvest thyme, simply snip off the leafy stems using clean gardening shears or sharp scissors. For the best results, cut just above a leaf node, which encourages new growth. Regularly harvesting thyme not only provides you with fresh herbs but also stimulates the plant to produce more leaves, ensuring a bountiful supply throughout the growing season.
Enhance your culinary creations
The vibrant robust and earthy flavor of thyme will elevate your culinary creations to new heights. Get ready to add a touch of freshness to your hot goat cheese sandwiches, soups, and meat dishes to spin a Mediterranean flair onto your creations.
Drying thyme is a fantastic way to preserve the herb for later use. To dry thyme, gather several stems and tie them together with twine or a rubber band. Hang the bundle upside down in a warm, well-ventilated area away from direct sunlight. Alternatively, you can also dry thyme in the oven. Simply spread the leaves on a baking sheet and place them in the oven at the lowest temperature setting for about 1 to 2 hours, or until the leaves become dry and wilted.
Thyme blooms from late spring to summer, creating pretty white, pink, or purple flowers at the end of the stems. The flowers can be used to beautify your meals, to make herbal tea, or to make easy and fragrant flower arrangements.
All You Need to Grow for as Low as $32/mo
Thyme Recipe: Roasted Chicken With Lemon and Thyme
For a simple and delicious recipe featuring thyme, try this classic roasted chicken with lemon and thyme:
Preheat your oven to 375 °F (190 °C);
Rub the chicken with a mixture of olive oil, freshly squeezed lemon juice, minced garlic, salt, and pepper;
Sprinkle fresh thyme leaves over the chicken, ensuring they adhere to the surface;
Place the chicken in a roasting pan and cook for approximately 20 minutes per pound, or until the internal temperature reaches 165 °F (74 °C);
Allow the chicken to rest for a few minutes before serving. Then add fresh thyme sprigs for more flavor and a visual appeal that will leave your fellow dinner patrons in awe.
Embark on the flavorful and fulfilling journey of growing thyme indoors!
The convenience of having a mini herb garden right in your home cannot be overstated! No more rushing to the store or settling for dried thyme from a jar. You now have the freshest ingredients at your fingertips, ready to elevate your cooking to new heights. Simply trim a few sprigs of thyme and let its enticing aroma and vibrant flavor enhance your culinary creations.
Remember, with Gardyn, the delights of fresh thyme are just a harvest away. Start your indoor herb garden today and savor the flavors of nature within the comfort of your own home. Learn more now and view which model will work best for you.
Choose from 70+ tasty varieties
Filter
By Plant Type
Flowers
Fruits
Greens
Herbs
By Category
Fall Finds
Grocery Store Staples
Heirloom Plants
Summer Favorites
Superfood Staples
Unique Finds
By Welcome Kit
Beauty
Immunity
Recommended
Grow All Your Produce for Only $32/Month
$0 down, 0% APR up to 24 months