You've been wanting to skip the grocery store and grow your own produce from home. For that, both the Gardyn Home Kit 3.0 and the Lettuce Grow system seem like a perfect fit. Both offer plenty of customization options, look amazing, and produce spectacular yields. So how do you know which is right for you?
*CONSTRUCTED WITH FOOD GRADE,UV-STABILIZED, RECYCLABLE, BPA-FREE PLASTIC
**MEMBERSHIP OPTION THAT GIVES ACCESS TO FREE PLANTS AND FOOD EACH MONTH, KELBY ASSIST, VACATION MODE, EXCLUSIVE PLANTS, AND SUPPORT FROM OUR LIVE GROWING EXPERTS
Lettuce Grow Farmstand With Lights vs. Gardyn, Let's Start With Lettuce Grow
Founded by actress Zooey Deschanel and Jacob Pechenik of The Farm Project, Lettuce Grow has changed urban gardening for the better with Farmstand – a vertical hydroponic garden that you can use right inside or outside your home. Unlike traditional farming, this efficient hydroponic system requires no soil, no mess, and hardly any time. Now, instead of having to rely on grocery produce, you can get a steady supply of fresh, delicious food all year round from a fully sustainable source.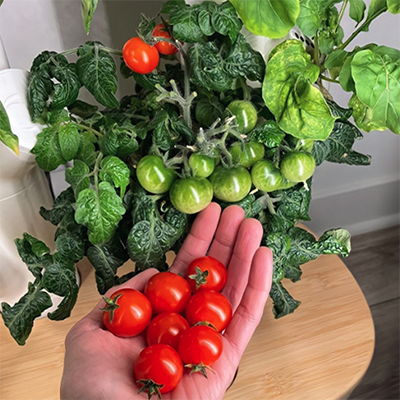 Gardyn's Home Kit 3.0 has been engineered to be easier to assemble, easier to maintain, and more reliable than its predecessor, the Home Kit 2.0. This new system takes up a mere two square feet of space, but is capable of growing thirty plants at once — the same amount you'd get from a traditional 1,300-square-foot outdoor vegetable garden! The elegance of Gardyn's system is that it requires less water, considerably fewer resources, and virtually no laborious effort when compared to conventional gardening methods.
High-yield, low-maintenance — that's the Gardyn promise. Get yours today.
What Are The Differences Between Gardyn Home Kit 3.0 vs. Lettuce Grow Farmstands With Lights?
If budget's a priority, the Gardyn Home Kit 3.0 is the more sensible choice at $899 – a notable bargain in comparison to the Farmstand (30-plant model) at $949. While the particular models we're comparing both have the same 30-plant capacity, the Farmstand is overall more customizable, ranging from 12 to 36-plant options. In terms of energy costs, the Home Kit 3.0 offers an economical 54 kWh use per month compared to the 69 kWh of the Farmstand – a difference that you'll likely appreciate over the long-term.
Harvesting is also easier with the Gardyn due to its shape, allowing it to fit flush against a wall and provide easy access to all plants. Meanwhile, with the Farmstand, some may find the produce located at the back of the device more difficult to reach.
The Gardyn Home Kit 3.0 offers plenty of automation and intelligent gardening features, from automated lighting to self-watering and humidity, temperature, and water level sensors (vs. the Farmstand which only supports timer-based self-watering) — a great choice for those not wanting to spend too much time or energy caring for their plants.

And for those even more eager for convenience, signing up for Gardyn's Experience Membership Program unlocks access to Kelby Assist (your personal plant coach), free plant food and member-exclusive plants, Vacation Mode, and the support of Gardyn's live growing experts.
Here are a few of our favorite features on the Gardyn Home Kit 3.0:
Plug N Play Design For No Mess
Gardyn's revolutionary Hybriponic™ technology allows you to grow up to 30 plants in just two square feet — twice the density of other hydroponic systems. It also makes our plants independent of each other, making it easier to move them around or harvest them quickly. No spills or mess to clean up.
Gardyn's LED lights are perfectly positioned for growing large, vining plants where other systems can't, such as tomatoes, cucumbers, and more. Plus, with Gardyn, you only harvest what you need — the rest keeps growing to be used again in future harvests!
Experience cutting-edge innovations, designed to make each Gardyner's life easier. Smart sensors detect home light and humidity conditions, and automatically adjust water and light schedules as needed. You don't have to worry about your plants wilting between waterings or light changes when the days get shorter — Gardyn takes care of it all!
With Gardyn, you're getting the world's most nutrient-dense produce, harvested minutes before from your own personal hydroponic garden. No pesticides, herbicides, or additives — far superior to anything found in grocery stores.
Final Verdict: Gardyn Home Kit 3.0 vs. Lettuce Grow Farmstand With Lights
For those seeking something more simplified and customizable, the Lettuce Grow Farmstand with Lights may be a good choice. But for those who want a hassle-free, intelligent, and cost-effective home gardening solution, the Gardyn Home Kit 3.0 is the clear winner.
The Gardyn Home Kit 3.0 offers a combination of features that are hard to beat, including:
Automated water and light schedules to fit your lifestyle;
Patented Hybriponics™ technology that uses 95% less water than traditional gardening methods;
A wide plant catalog of more than 70+ types of herbs, fruits, veggies, and flowers;
Free starter kit containing 30 plants with your purchase ($150 retail value);
AI-powered Growth Assistant Kelby to look after your Gardyn 24/7 and provide personalized recommendations;
Vacation Mode™ to manage plant growth while you're away.
Harvest fresh produce from the comfort of your own home with Gardyn.
The Differences Between Gardyn Home Kit 2.0 vs. Lettuce Grow Farmstand Nook
Both the Gardyn Home Kit 2.0 and Lettuce Grow Farmstand Nook are viable options for indoor gardeners looking to grow produce in compact spaces, all year round.
The Farmstand Nook, Lettuce Grow's latest iteration of its flagship product, was designed for those looking for a more compact and efficient way to grow produce indoors, with even less space than before. The Nook features a smaller tank (9 gallons vs the original 20.5) and integrated LED grow lights — something that was noticeably absent in the original Farmstand. This time round, Nook users won't have to purchase glow rings separately as they had to for the first Farmstand.
However, with Gardyn's Home Kit 2.0. you'll get real value and great features.
More Green With Less Bucks
Although the Farmstand Nook does have a more reasonable price tag at $779 for the complete system ($699 for pre-orders), Gardyn offers greater value, with a capacity of 30 plants, compared to the 20 on the Nook. The Nook, unfortunately, is not modular like the original Farmstand, meaning that buyers are stuck with that 20-plant capacity.
Out of the box, the Home Kit 2.0 features an array of sensors and cameras used to measure humidity and temperature. With an accompanying membership, you'll also get access to convenient extras such as Kelby Assist (for personalized tips and recommendations) vacation mode, timelapse mode — all easily accessible within the intuitive Gardyn app.
With your Gardyn membership, you'll also receive free plants every month, as well as access to exclusive and rare selections such as sunflowers, eggplant, purple beans, and more.
On the other hand, the Lettuce Grow Farmstand Nook does not offer any of these features, even on its latest device iteration. Instead, it offers users a smart timer (for setting up watering schedules), digital pH pen, and a water-resistant floor mat. While this will be sufficient for some home vegetable growers, it's really no comparison to the sophisticated, AI-enabled monitoring, optimization, and plant coaching that the Gardyn Home Kit 2.0 offers.
Final Verdict: Gardyn Home Kit 2.0 vs. Lettuce Grow Farmstand Nook
While both the Gardyn Home Kit 2.0 and Lettuce Grow Farmstand Nook do a great job at making indoor gardening easier, it's clear that the Home Kit 2.0 offers much more value and features for the price. Its advanced sensors and cameras, AI-driven plant care, and great membership perks make it the definitive choice for anyone wanting to get serious about their indoor gardening pursuits.
Experience the future of indoor gardening with Gardyn.