Hydroponic Indoor Tower Garden
Get closer to nature. Grow your own fresh, nutrient-rich greens and herbs — and do it with nothing more than the space of your living room. Enter Gardyn, the turnkey hydroponic indoor garden tower developed for compact spaces.
Improved technology to boost your plants
Automated water and light schedule
An Unmatched Vertical Garden
Modern, sleek, and stylish — Gardyn's vegetable vertical gardens take up very little room, even in the most modest of spaces. Our breakthrough Hybriponics™ technology allows for high-density vertical growth — 30 large plants in 2 sq. ft. (compared to 4+ ft. for other systems) — making our towers the ideal choice for compact apartments, city lofts, office spaces, or nearly any other indoor setting. Why go to the supermarket when you can enjoy the freshest and most nutrient rich fruits and vegetables right from the comfort of your home?
Learn how our vertical garden kit can revolutionize your approach to healthy eating and sustainability.
Fresh, Nutritious Produce Just for You
Healthy eating calls for fresh, nutritious produce. Unfortunately, the price for such goods can be prohibitive, particularly if they go bad before being used. That all changes with Gardyn and its revolutionary grow hydroponic garden where you can expect an abundant harvest in just a matter of weeks!
A Wide Variety of Options
Your Gardyn tower unlocks access to 80+ popular produce varieties: microgreens, herbs, flowers, veggies, and fruiting plants — always of the highest quality, chosen for taste and nutrition. Something your local grocery store just doesn't compare to.
No more laborious weeding, mowing, raking, or pruning; all it takes is an inspiring vision and a quick setup of our app and device. Watch as Gardyn controls the lights and waters itself, day in, day out — with absolutely zero effort on your part. The result? Enjoy 8-10 pounds of pesticide-free produce per month.
Gardyn vertical garden tower comes with an intelligent AI gardening assistant, Kelby, who continually monitors the conditions of your plants and provides feedback to adjust your tower's settings in real time. Gardyners, brace yourselves for harvests that contain 30% more nutrients than store-bought foods.
Getting What You Want and Sustainably
Gardyn's innovative reservoir design means that our towers need 95% less water than conventional gardening. Not only can you be sure that you're getting the best nutrients from your favorite veggies, but you're doing this all while positively contributing to the environment.
All you need to grow for as low as $25/mo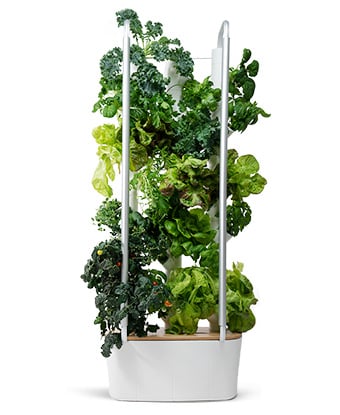 $999 $699 – As low as $25/mo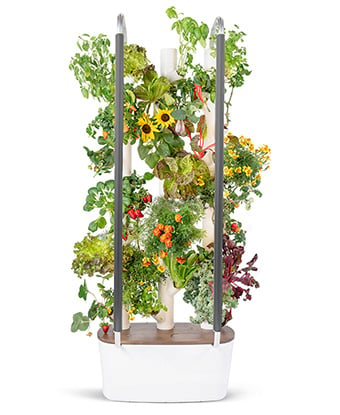 $999 $899 – As low as $32/mo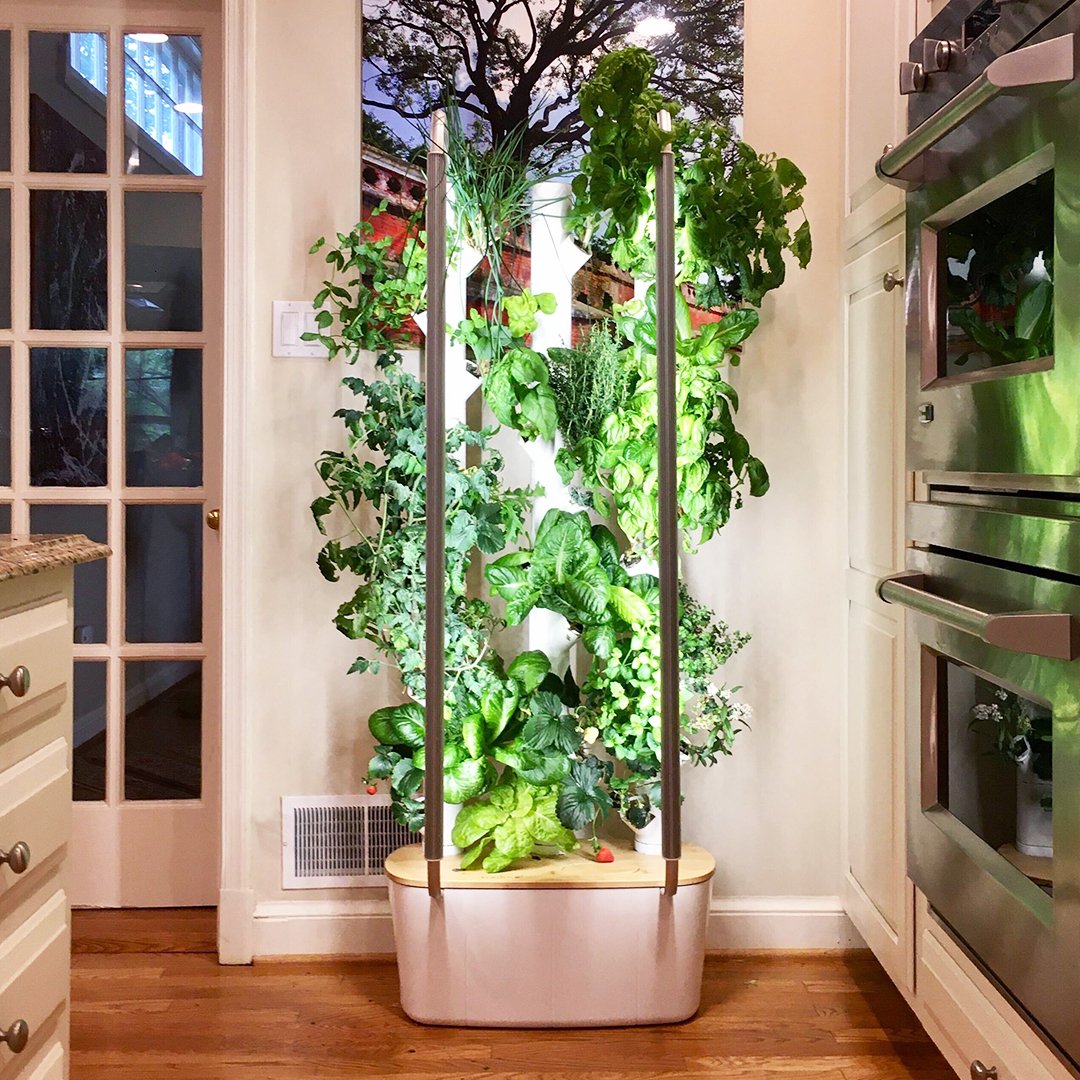 Why Gardyn's Hydroponic Tower?
Gardyn's Vertical Garden Home series strike the perfect balance between high-performance hydroponics and exquisite décor. Each tower makes for an impressive showpiece within any home, bringing life and light to otherwise empty corners. At the same time, our grow towers also reflect our commitment to sustainability. Each product features top-quality, sustainable materials, including brushed aluminum, recyclable food-grade plastics, and compostable yCubes.
What kind of plants can I grow with my Gardyn garden towers?
A hydroponic vegetable garden tower from Gardyn is the perfect way to indulge your culinary whims. Choose from over 80+ produce options — from root veggies like carrots and potatoes to superfood greens like kale, and even climbing plants like tomatoes, squash, and cucumbers. We're always expanding our portfolio to ensure that you get the freshest, most nutrient-dense produce available.
How to Rediscover The Future of Food With Gardyn?
Gardyn takes over where traditional gardening falls short. With our pioneering garden tower project, we're making it possible for anyone to grow fresh, delicious fruits and vegetables, regardless of climate, resources, or yard size. Enjoy top-quality, pick-your-own produce — without ever stepping outside your door.
Kickstart your Gardyn experience and find your perfect vertical garden for sale here.
Why Should I Grow My Own Food with Gardyn's hydroponic garden towers?
Gardening with Gardyn is more than just a hobby; it's an investment in your health and wellbeing. Know what's in your food and where it comes from. Be confident that your meals don't contain added pesticides or chemicals. And all this while shrinking your carbon footprint by reducing the distance your food travels.
Get started with Gardyn's Home Kit 3.0, our latest vertical plant tower/hydroponic garden that makes indoor gardening even more affordable, accessible, and easy for suburban and city dwellers.
The latest hydroponic garden tower technology to grow your favorite veggies
Equipped with the best in Hybriponics™ technology, every Gardyn hydroponic vegetable garden tower is built to revolutionize how you consume your favorite fruits and vegetables starting at phase one. From germination to harvest — get dynamic, step-by-step instructions on how to keep your plants flourishing. Need to add more water? Trim leaves? Grow a new plant? Gardyn's intuitive tower hydroponic packs all the best features so you can maintain a flourishing and healthy indoor garden.
Optimal monitoring with Kelby
Gardyn's growing towers each come with their own personal AI gardening assistant! Powered by an array of sensors and cameras, Kelby monitors your entire indoor hydroponics system 24/7 and provides you with timely plant care reminders, including water level and device care alerts, so you never miss a beat throughout the whole process.
Sustainability has always been at the core of Gardyn's hydroponic growing towers, from the design to the materials used and the growing process itself. A hydroponic plant grow tower from Gardyn consumes 95% less water than conventional farming methods, thanks to a closed loop water system. Our energy-efficient LED bulbs consume 75W (about the same as a desktop computer per year) with no harmful CO2 emissions.
Nothing is as enjoyable and nourishing as knowing that your vegetables are freshly picked directly from its source. Take comfort in feasting on fresh, nutrient-dense produce that tastes better than anything you'll find on store shelves.
Community engagement initiatives
Starting your own green oasis is pleasurable, but imagine all the shared benefits in joining a community of other Gardyn dwellers with you. When you choose your first hydroponic gardening at home, you'll be able to take advantage of all our exclusive offers including monthly credit updates, gardening tips, recipe tips, and more.
Simply add water and watch your greens grow from seed to harvest in as little as 7 days.