Choosing the right home indoor garden can be a tough decision. If you're trying to weigh your options and find the best fit for you, we can help you narrow it down.
Let's see how Gardyn's Home Garden 3.0 compares to the Click & Grow's Smart Garden 27.
Automated or self-watering
Can grow microgreens/baby greens
Can grow plants over 2 feet tall
Constructed with food grade, UV-stabilized, recyclable, BPA-free plastic
AI-powered monitoring, optimization, and plant coaching
Membership option that gives access to free plants and food each month, Kelby Assist, Vacation Mode, exclusive plants, and support from our live growing experts.
Timelapse videos of plant growth
Modular design that allows for easy plant arranging
Click & Grow vs. Gardyn, Let's start with Click & Grow
The Smart Garden 27, offered by Click & Grow, allows you to grow up to 27 plants in a three-tiered birch plywood stand that can also be mounted to your wall. You can choose from a variety of fruits, herbs, and greens, which come in small plant pods with all of the seeds and nutrients you need. Want to grow something else? You can also buy seedless pods and plant the seeds of your choice.
Once you plug in your pods, the system provides automated light and watering to optimize your plant growth — you'll just need to refill the water tank every 2-3 weeks, on average.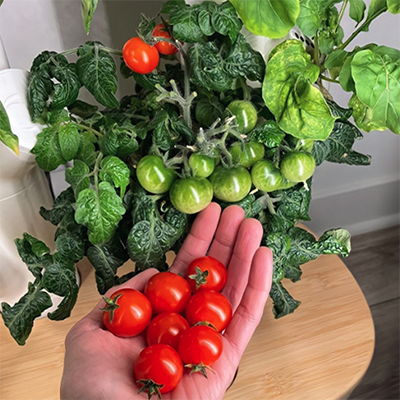 The Home Kit 3.0, offered by Gardyn, is an indoor garden specifically designed for smaller spaces, with room for 30 plants at a time in a high-density, high-tech BPA-free plastic stand that takes up only 2 sq. ft of space. With Gardyn, you'll have the latest Hybriponic™ technology and a large assortment of produce options, which come in convenient plug-and-play yCubes that can be easily inserted anywhere on your Home Kit—or moved as needed.
Once planted, Home Kit 3.0 offers robust technological tools to aid with plant growth, including automatic light, water, temperature, and humidity control, and AI assistance and tips to help you troubleshoot. See how Gardyn's innovations can work for you here.
On the surface, both Home Kit 3.0 and Smart Garden 27 offer similar indoor garden functionality, supported by optional subscription / membership options to keep you fully stocked and supported year-round. However, for serious indoor gardeners, Gardyn's comprehensive slate of innovative features offer you significantly more flexibility and support for your growing efforts.
With Gardyn's Home Kit 3.0, you get the added advantage of:
Advanced technological guidance;
The highest density growing potential;
Garden management on the go;
More growing options for your garden.
Grow with Confidence and Technological Support
Our automated sensors measure and maintain everything your plants need to grow, and will even tell you when the water is low, unlike the Smart Garden 27. Whether you're a novice or a pro, our proprietary AI, Kelby, keeps an eye on everything 24/7, coaches you through any issues, and recommends ways to optimize your growing techniques.
Grow More Than in Other Indoor Gardens
Make the most of small areas. Home Kit 3.0's patented Hybriponics™ technology provides for the highest density growing of any indoor garden. Grow 30 plants over 2 feet tall in only 2 sq. ft. of space, and our modular system gives you unparalleled flexibility to move and rearrange plants if desired.
Grow Your Garden From Afar
Thanks to built-in WiFi and the Gardyn app, you can check Kelby and your garden status anytime, anywhere. You can also view live camera feeds, and our timelapse feature lets you create and share your own videos. Going away? Set it to vacation mode, and it will pause your plants' growth so they'll still be fresh when you return.
Grow It Your Way, Every Time
Grow more of what you want. In addition to the standard fruits, flower, herbs, and greens, you can choose larger, more full-sized plants (such as eggplant and cucumbers), and microgreens and baby greens. You can even customize your own starter pack and get exactly what you want, instead of being locked into a standard selection.
Choosing Your Ideal Home Garden System
Both the Gardyn Home Kit 3.0 and the Click & Grow Smart Garden 27 provide home indoor gardening solutions to get you growing in no time.
For someone who is looking for a simpler home garden solution, Smart Garden 27 may be a fine option. However, Home Kit 3.0 offers significantly more functionality, and is a more complete option for anyone who:
Wants advanced 24/7 monitoring, more powerful sensors, and AI support;
Is looking to grow more, larger plants in the smallest footprint possible;
Is away from home often and wants to monitor their garden or adjust settings on the go.
View the Home Kit 3.0 for more information.