So you've made the decision to purchase an indoor garden system; congratulations! You're about to embark on an exciting journey of homegrown food, no matter the climate or season.
You've made your way through a bunch of indoor garden systems and finally, you're down to two frontrunners — Gardyn Home Kit 3.0 and the iHarvest Complete Package. But which one should you choose?
Grow fresh, clean, and organic produce, with Gardyn.
Automated or self-watering
Can grow microgreens/baby greens
Can grow plants over 2 feet tall
Constructed with food grade, UV-stabilized, recyclable, BPA-free plastic
AI-powered monitoring, optimization, and plant coaching
Membership option that gives access to free plants and food each month, Kelby Assist, Vacation Mode, exclusive plants, and support from our live growing experts.
Timelapse videos of plant growth
Modular design that allows for easy plant arranging
iHarvest vs. Gardyn, Let's Start With iHarvest
iHarvest, the hydroponic indoor garden system from California-based IGWorks, let's you grow delicious, nutrient-packed food inside the comfort of your home. Initially funded on Kickstarter and now available for retail purchase, iHarvest offers users a Complete Package option to cultivate a range of fruits and vegetables, including leafy greens, tomatoes, peppers, cucumbers, strawberries, and watermelon, and even beans.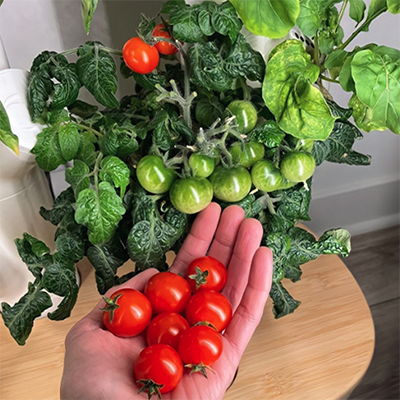 Gardyn, a US-based startup, is revolutionizing indoor gardening with a new AI-driven vertical Hybriponics™ system: the Gardyn Home Kit 3.0. Unlike traditional hydroponic and aeroponic solutions, Gardyn's integrated setup drastically reduces water consumption by incorporating a closed-loop recirculation system. Advanced AI algorithms further help fine-tune the growing environment, analyzing and optimizing each plant's development — ensuring they grow faster, healthier, and fresher.
Less time, less mess and great results! Get Gardyn now.
Getting the Upper Green Thumb with Gardyn
To start, each kit will cost you roughly the same: the Gardyn Home Kit 3.0 costs $899, while the iHarvest Complete Package is a smidge higher at $900. The good thing is now that budget is no longer a factor, comparing benefits becomes much easier.
With Gardyn's Home Kit 3.0, you'll get some of the best indoor gardening features and advantages:
Cutting-edge gardening technology, utilizing AI-enabled monitoring and optimization to create the best conditions for a bountiful harvest;
With an accompanying membership, Kelby Assist plant coaching provides personalized tips in real-time;
Free plants and food each month;
All this while remaining green — the Home Kit 3.0 uses a far leaner 54 kWh a month, compared to the iHarvest's 62 kWh.
Comparing Gardyn vs. iHarvest, the Gardyn Home Kit 3.0 does seem to offer some of the best features for its price:
Featuring our patented Hybriponics™ technology, Gardyn's Home Kit 3.0 enables the highest density of produce ever made possible — 30 plants in just 2 sq. ft. of space. Additionally, our hydroponics accelerates nutrient absorption and puts you on the fast track to a delicious harvest in only five weeks. Obtain up to 10x more bountiful harvests than traditional methods, all without sacrificing living space.
With Gardyn, you're getting the world's most nutrient-dense fruits and vegetables, freshly harvested minutes before from your own garden. No pesticides, herbicides, or soil disruptions. Fruits, veggies, herbs, and microgreens — you name it; Gardyn-grown produce is far superior than anything you can get off shelves, both in health and taste.
Bountiful Harvests With AI, Every Time
Take the guesswork out of gardening. Kelby, your personal AI assistant, automatically adjusts your Gardyn's light and water schedules to ensure optimal growing conditions for your plants, all while detecting any potential plant health issues before they take hold — a real boon for novice gardeners. And it won't forget the little things either: your assistant provides clear, helpful tips and instructions at every stage of the growth process, right up to harvesting.
Simple, No-Mess Gardening
Say goodbye to dirty, unkempt indoor gardening. Our easy-to-use, tangle-free plant pods are designed from the ground up to be plug-and-play, letting you harvest and change layouts with no dirt and no mess.
Final Thoughts: Getting the Best Home Garden System
While iHarvest does have its place as a more simplified indoor garden system, all things considered, it's the Gardyn that comes out looking like the smarter solution. The Gardyn Home Kit 3.0 accommodates today's urban gardening needs beautifully, offering an easy, clean, and intuitive setup for novice and veteran gardeners alike.
It boasts an impressive range of features that give it a clear edge for value for money:
Easy, plug-and-play assembly;
Automated light and water schedules;
AI guidance for automatic, optimized growth;
Vacation mode and timelapse view;
80+ varieties of greens, herbs, fruits, veggies, and flowers to choose from;
30 free plants in your Starter Set to get you going right away.
No soil, no watering, and no pests. Your Gardyn isn't just an easier way to garden — it's a simpler, smarter way of living. Start your Gardyning journey here.