For weeks, you've been toying with the idea of getting your own indoor hydroponic garden setup so you can cultivate only the freshest, healthiest produce. And why not? The time investment is minimal. The form, fuss, and rather hefty price tag that comes with traditional greenhouses? Non-existent.
And you've done your research, too. And you've narrowed it down to two top-tier products: the Gardyn Home Kit 3.0 vs. the Tower Garden HOME with lights. With these two great options in the running, it's time to make a decision.
*CONSTRUCTED WITH FOOD GRADE,UV-STABILIZED, RECYCLABLE, BPA-FREE PLASTIC
**MEMBERSHIP OPTION THAT GIVES ACCESS TO FREE PLANTS AND FOOD EACH MONTH, KELBY ASSIST, VACATION MODE, EXCLUSIVE PLANTS, AND SUPPORT FROM OUR LIVE GROWING EXPERTS
Gardyn vs. Tower Garden — First, The Tower Garden
The Tower Garden by Juice Plus+ uses cutting-edge aeroponic technology to grow fresh greens and herbs indoors. There are two versions of the system: the HOME Growing System and the FLEX Growing System. Our focus here is on the HOME Growing System, which is suitable for growing herbs and greens indoors (the FLEX Growing System is slightly bigger and can also be used outdoors).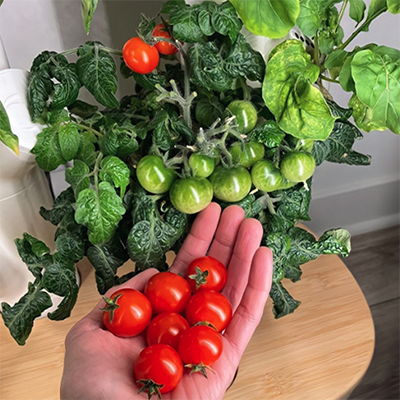 Gardyn's Home Kit 3.0 is part of an innovative indoor hydroponic garden series from US-based Gardyn. Featuring patented Hybriponics™ technology, it's revolutionizing indoor food cultivation, ushering in an era of fresh vegetables and herbs grown with minimal space, effort, and maintenance. All you need to get started is a power outlet, a home Wi-Fi connection, and the Gardyn smartphone app. How's that for easy gardening?
Getting the Green Thumb of Approval with Gardyn
Both products have very different prices: Gardyn's Home Kit 3.0 comes in at $899, while the Tower Garden HOME will set you back a hefty $1,020. For the additional price, you get slightly more space — the Tower Garden HOME can accommodate 32 plants, compared to the Gardyn's 30 plants. It's up to the home gardener to decide if the extra capacity is worth the premium.
Where the Gardyn really starts to pull ahead is in its technology. With its Home Kit 3.0, take advantage of the features that'll put your indoor garden front and center (and setting it apart from competition):
Sensors to measure humidity and temperature to provide optimal plant care;
Vacation mode and timelapse modes to ensure plant growth even when you're not at home;
Intuitive Kelby Assist that'll give you recommendations for how to nourish your plants.
Juice Plus+'s Tower Garden HOME, unfortunately, does not have an app; nor does it offer any of these smart features. So why invest in an indoor garden just to see your plants wither
Additionally, Gardyn's Home Kit 3.0 consumes around 54 kWh/month of energy, while the Tower Garden HOME with lights requires up to 87 kWh/month. It goes without saying that this could add up quickly in energy bills, so it's something to think about when considering Gardyn vs. Tower Garden.
Gardyn Home Kit 3.0 offers remarkable benefits to intrepid indoor gardeners:
Healthier-For-You Produce
No harmful pesticides, no unknown chemicals. The Gardyn Home Kit 3.0 produces fresh, organic produce, harvested once every 4-5 weeks (four times more than conventional farming methods). Enjoy the fruits of your labor, literally, with bountiful produce that puts the well-being of your family first.
Free Plants to Get You Started
The Gardyn Home Kit 3.0 comes with a Starter Set containing 30 free plants to get you started right away. From leafy kale to gorgeous sunflowers and fragrant holy basil, take your pick from a vibrant selection of plants guaranteed to produce a lush crop, right from the get-go.
Automated Care with Kelby Assist
Equipped with Kelby Assist, every Gardyn Home Kit 3.0 is an automated, self-sustaining eco-system. Get automated watering, lighting, as well as 24/7 personalized care so that your plants get all the nourishment and attention they need. In addition, Kelby offers timely tips and recommendations to promote plant development throughout the growth cycle. With Kelby in charge, you're guaranteed plentiful harvests, more vibrant blooms, and happier plants!
Sustainable Beauty That Fits Right Into Your Home's Aesthetic
Give life and beauty to your living space. Built from premium brushed aluminum material, the Gardyn Home Kit 3.0 is the perfect synthesis of nature-inspired design and industrial engineering — a stunning design choice for bringing nature indoors.
The Verdict: Gardyn Home Kit 3.0 vs. Tower Garden HOME With Lights
While both can produce great harvests, the Gardyn Home Kit 3.0 is the far better choice in terms of functionality and value. It boasts an impressive array of features, including more sensors for optimal monitoring, advanced AI-driven plant care, and support for a wider variety of plants — at a much lower price.
The Gardyn Home Kit 3.0 is an excellent way to up your home garden game. Here's why:
Easy to assemble and maintain, with no dirt or soil to deal with;
95% less water consumption than traditional methods;
A fully automated system to monitor, water, and light your plants;
AI-powered plant coaching for optimal growth;
70+ types of herbs, fruits, veggies, and flowers.
Discover an automated, smart, and sustainable approach to gardening. Get started today.