Gardyn has been changing the narrative on gardening since 2019. With its optimally designed vertical garden systems, you'll be ready to get nutritionally rich fruits and vegetables within a matter of weeks. Emphasizing the importance of honoring our environment and making the most of the space we have – Gardyn's vertical garden home kits are designed to break traditional gardening methods to provide our bodies with the right kind of nourishment!
Improved technology to boost your plants
Automated water and light schedule
The future of food and the environment is vertical
Since ivy has climbed walls and grape vines have wound up trellises, the plants we love to eat all seem to gravitate vertically. With Gardyn's Hybriponic™ technology, choose your favorite climbing and creeping plants and watch them flourish in only a few weeks! Specially designed for small spaces, Gardyn's vertical garden home kits can grow up to 30 plants in just 2 square feet. Say goodbye to withered supermarket veggies and hello to fresh, nutrient rich, and hand-picked produce!
Join in and grow to new heights with Gardyn's revolutionary vertical garden systems.
With a Vertical Garden, You're Ready to Go Up
What kind of vegetables are you looking to grow? With Gardyn's vertical garden, within only a few weeks, you'll be able to enjoy a green feat with you favorite fruits and vegetables. Simply place your selection of seeds into our convenient yCubes and observe the magic. Gardyn's vertical garden wall home kits are easy to install, and its smart technology literally puts you in control.
Are you looking to harvest your favorite greens but don't have the time or the green thumb to conjure a flourishing garden? Gardyn's vertical gardens possess smart technology which can automate watering schedules. Bid farewell to messes and tiring gardening chores. Now, just sit back and enjoy seeing your fruits and vegetables grow in only a few weeks.
Superior Selection for Guaranteed Taste
Fruits and vegetables in supermarkets don't offer a lot of variety. With Gardyn, we carefully pick the best seeds for our home garden kits. Each seed is non-GMO, locally grown, and pesticide free. We also make available rare and unforgotten varieties of your favorite fruits and vegetables so you can discover new savors for your palates.
A Futurist Look for Your Indoor Needs
Only taking up 2 square meters, Gardyn's modern and minimalist design can easily be slotted into unoccupied corners to provide a green oasis. Also, they are also great assets to your living situation – they can help filter out indoor air pollutants, add much-needed humidity during the dry winter months, and contribute to better air circulation – all of which add to your quality of life.
When you choose your Gardyn vertical wall garden, you're ensuring an investment that's sustainable. Consuming 95% less water than traditional gardening methods, Gardyn's home kits are equipped with automated lighting and sensors so that you can obtain optimal yields that are nutrient rich and prime for hand-picking. Essentially, the best and all convenient way to get food directly to your plates.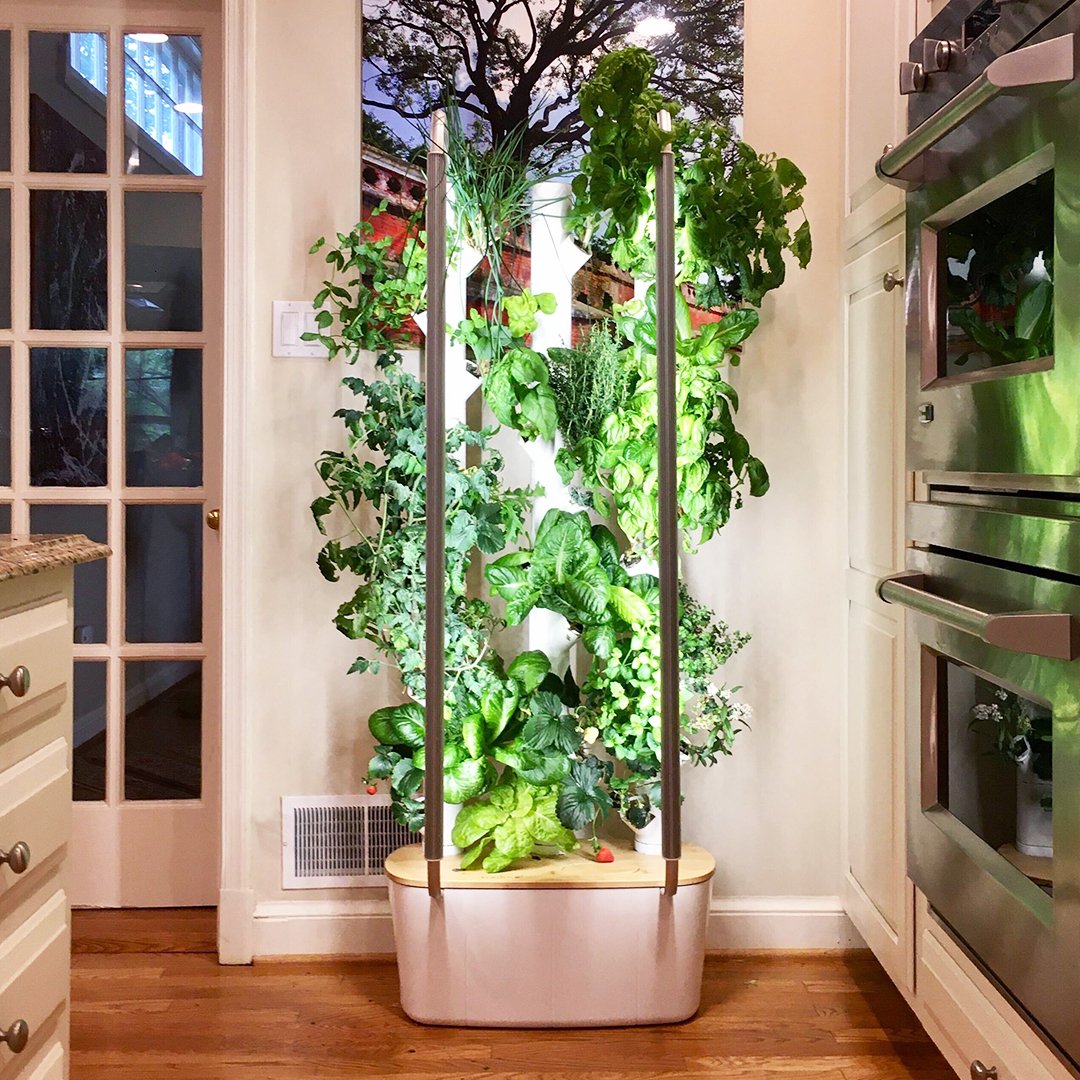 Why Gardyn's Vertical Garden?
Vertical gardening, as the name suggests, requires a frame or structure for the plants to climb and grow up, utilizing far less space than traditional garden beds or setups. In terms of vertical garden ideas, you have the choice of deciding whether to incorporate it onto your patio or balcony. Not only will Gardyn's Home 2.0 and Gardyn Home 3.0 vertical wall kits put you on a trendy path, but you'll also be providing nourishment for yourself and your loved ones!
Reimagine the future of food and shine the spotlight on sustainability. Start your Gardyn journey today.
Grow Four Tasty Varieties
Simply add water and watch your greens grow from seed to harvest in as little as 7 days.
Gardyn vs Lettuce Grow
Gardyn vs iHarvest