When it comes to indoor gardens, choosing the right one can be tricky. After all, they all attempt to achieve what's best for the planet and for people's health.
To help you with narrowing your list of convenient indoor garden systems for you, we've drawn out comparisons between the new Gardyn Home Kit 3.0 and Eden Tower's Vertical Garden Tower.
Eden Tower vs. Gardyn: A Look at Eden Tower
Eden Tower presents the Vertical Garden Tower, an innovation in indoor gardening where you can grow up to 16 plants, including vegetables and leafy greens. The tower takes a conventional approach with soil-filled pockets where plants grow, adding a touch of nature to your living space.
The Eden Tower vertical garden relies on a gravity-based watering system that hydrates your plants from top to bottom. This means you must manually check your garden for water and nutrient needs, ensuring your plants thrive.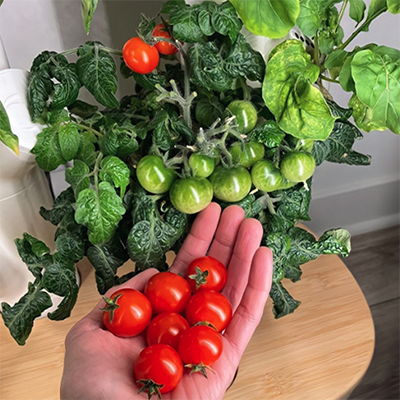 Introducing Gardyn Home Kit 3.0
With the new Home Kit 3.0, Gardyn provides a garden solution designed for compact spaces. Here, you can grow up to 30 different types of plants, from your favorite fruits and herbs to various vegetables, in only 2 sq. ft of space. The food you grow is right at your fingertips with our plug-and-play yCubes that can be easily placed anywhere on your Home Kit or rearranged as needed.
Once you plant your yCubes, you'll be able to leverage cutting-edge technology that manages light, water, temperature, and humidity to optimize plant growth. Coupled with our AI assistant for round-the-clock guidance, you can grow your garden with ease. Discover how Gardyn makes indoor gardening simple here.
While both Eden Tower and Gardyn offer practical indoor gardening solutions, the Home Kit 3.0 provides unprecedented flexibility and support. With Gardyn, you get:
Advanced technological guidance with Kelby;
High-density growing potential;
Remote garden management to help indoor gardening novices;
More variety in what you can grow from our catalogue of carefully-selected seeds.
Grow with Gardyn's Technological Support
Our automated sensors monitor and maintain everything your plants need to grow, alerting you when the water is low. Whether you're just starting or already have a green thumb, our AI, Kelby, offers 24/7 support, coaching you through issues and suggesting ways to improve your garden.
Make the most out of your small areas. With Gardyn's patented Hybriponic™ technology, you can grow 30 plants over 2 feet tall in just 2 sq. ft of space. Plus, our modular system offers unparalleled flexibility to rearrange your plants as you see fit.
Manage Your Garden from Anywhere
With built-in WiFi and the Gardyn app, you can monitor your garden's status anytime, anywhere. Heading on a trip? Simply set your Home Kit to vacation mode, and it will pause your plants' growth until you return.
Gardyn enables you to grow a vast array of plants, from standard greens and herbs to larger plants like eggplants and cucumbers. You can customize your own starter pack, growing exactly what you want.
Choosing the Best Indoor Garden for You
Gardyn outperforms Just Vertical in the garden indoor plants space. Its high-density planting system, housing up to 30 plants, maximizes productivity while minimizing space. The noise-free pump ensures a peaceful environment. In addition, its price is affordable and you're sure to make additional savings with each bountiful harvest.
Key benefits of Gardyn:
High-density: Grow up to 30 plants in only 2 sq. ft.
Quiet operation: No disturbance from a water tank or noisy pumps.
Aesthetic design: The BPA-free vertical stand is safe and visually pleasing.
Choose a new and better approach to how you view food. Look no further than the Gardyn Home Kit 3.0 for a superior, efficient, and enjoyable indoor gardening experience. Add yours to your home today and start an indoor gardening journey that everyone can enjoy.