If you're looking to buy a home indoor garden, you want to make sure you find one that fits your needs and your lifestyle. That's where we can help!
Let's look at the Gardyn Home Garden 3.0 and the Rise Gardens' Level 1 to see how they match up.
Learn more on how to grow fresh and nutrient-rich produce, with Gardyn.
Automated or self-watering
Can grow microgreens/baby greens
Can grow plants over 2 feet tall
Constructed with food grade, UV-stabilized, recyclable, BPA-free plastic
AI-powered monitoring, optimization, and plant coaching
Membership option that gives access to free plants and food each month, Kelby Assist, Vacation Mode, exclusive plants, and support from our live growing experts.
Timelapse videos of plant growth
Modular design that allows for easy plant arranging
Rise Gardens vs. Gardyn, Let's Start with Rise Gardens
Rise Gardens' Level 1 provides room to grow up to 36 plants in a cabinet-style wood and steel design, with cloud and charcoal color options. Looking to grow even more? Its expandable frame allows you to add up to 3 levels for an even more robust garden.
Rise Gardens offers a large assortment of produce seeds to choose from, including microgreens and root vegetables. Once planted, the system monitors light and water to optimize plant growth, and water sensors tell you when it's time to refill. The included WiFi capabilities also lets you get tips and guidance through the app, and a plug-in for Amazon Alexa offers voice control options.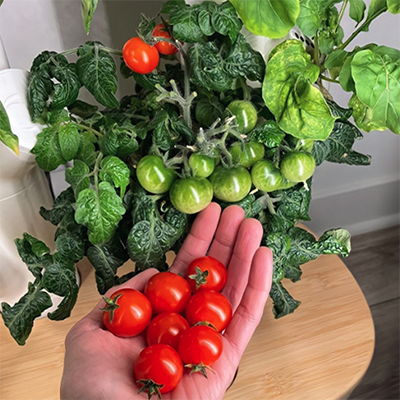 The Home Kit 3.0 is a comprehensive, all-in-one home indoor garden solution. Backed by our proprietary AI, Kelby, it automatically monitors your plants 24/7 using advanced sensors for light, water, temperature, and humidity, and adjusts them as needed to give your plants exactly what they need, when they need it.
Built using an innovative BPA-free vertical stand, Gardyn's Home Kit 3.0 is the most high-density garden on the market, with room to grow up to 30 plants in only 2 sq. ft. of indoor space. Just choose your plants (including fruits, herbs, and greens), plug in the convenient yCube seed pods, and you're ready to go.
Less time, less mess, and all the best for the environment! Get Gardyn now.
With Gardyn, Get the Technological Edge
There are many similarities between Gardyn's Home Kit 3.0 and Rise Gardens' Level 1, right down to the membership options that provide exclusive benefits and discounts for your gardening journey. When making your choice, Gardyn stands out for its advanced technological and support features, which provide extra peace of mind—and more reliable results—for both professional and novice gardeners alike.
Home Kit 3.0 shines by offering:
State-of-the-art sensors to optimize every facet of plant growth;
Stronger, more comprehensive AI-backed plant monitoring;
More flexibility in planning and arranging your home garden;
Additional features for managing your garden when you're away from home.
Rely on Advanced Sensor Support
Take the guesswork out of how your plants are doing. While both gardens offer water sensors, Gardyn's Home Kit 3.0 also adds in light, humidity, and temperature sensors, so you always have a clear, complete picture of all of the factors that can either help or hurt your plants' growth.
Garden with an Expert Partner
Back by our detailed sensors, the Kelby AI monitors your garden's progress 24/7. It provides crucial status updates, suggests ways to optimize growth, alerts you to any issues, and provides coaching to help you fix problems—and broaden your general gardening knowledge along the way.
Organize Your Garden Your Way
With Home Kit 3.0, you're not locked into one garden setup. Thanks to our modular design and plug-and-play yCubes, you can quickly and easily rearrange your plants within the garden as needed, or remove them to make it easier to harvest them for your next meal—no mess, no cleanup.
Take Your Garden With You
While both gardens feature WiFi-enabled apps, Home Kit 3.0 doesn't just offer tips or reminders—it lets you fully manage your settings wherever you are, thanks to Kelby's oversight. A vacation mode lets you turn things down until you get back, and live camera views and timelapse options provide additional visibility.
Gardyn vs. Rise Gardens: The Final Decision
For anyone looking to purchase a new home indoor garden, both Home Kit 3.0 and Level 1 offer similar basic functionality and produce selections to get you up and growing in no time. If you want to maximize the number of plants you can grow, the expandable options for Level 1, coupled with its basic app and sensor support, may make it an attractive option.
Where Gardyn truly stands out is in the technological support, which exceeds what Level 1 offers. It is a more complete home indoor garden for those who want:
Advanced sensor, monitoring, and control, even on the go;
The backing of an AI to assist with troubleshooting and optimization;
A flexible, high-density modular design that lets you make the most of a small space.
If you're ready to get started, learn more about the Home Kit 3.0.