Starting your own home garden can be daunting. Maybe you don't have the time, the space, the right climate, or maybe a green thumb. With Gardyn, you don't have to worry about time, location, weather, or even gardening knowledge. Our award-winning hydroponic garden systems let you easily grow fresh fruit, vegetables, herbs, and more right in your home year-round. And our AI takes the guesswork out of everything, so you'll get a successful harvest every time.
Improved technology to boost your plants
Automated water and light schedule
Grow Fantastic Food With Gardyn's Indoor Vegetable Garden
Gardyn's indoor vegetable gardens, built with patented Hybriponics® technology, let you grow 30 different large plants year-round in only a 2 sq. ft. space. Choose from a wide selection of seeds, which comes in convenient yCubes that you can plug right into your Gardyn. Equipped with an AI assistant, your indoor vegetable garden will receive the best and adapted plant care to deliver you the freshest and most nutrient rich fruits and vegetables. And with optimal yield, you can harvest enough to feed a family of 4-6 in 4-5 weeks.
Curious to know which indoor garden home kit is best for you. We've compiled a table so you can easily decide on your next model.
Healthy Veggies While Saving Money and the Environment
Gardyn is more than an indoor vegetable garden—it's a powerful way to transform the way you eat with food that is sustainable, nutritious, and convenient. It's good for you, it's good for your wallet, and it's good for the planet.
Put fresh food at your fingertips
Why go to the grocery store and pay high prices for produce that has lost most of its nutrients? With Gardyn, you have fresh, healthy, hyperlocal food right that you can pick and consume immediately—whenever you need it.
Make the most of any space
You don't need a large outdoor area to have a robust garden. Gardyn only needs 2 sq. ft. of space to prosper, so it's perfect for people who live in apartments or in dense city or urban environments.
Grow on your own schedule, not the weather's
When you have an outdoor garden, you're at the mercy of mother nature. If you grow your food indoors with Gardyn, your plants will thrive at any time of year, regardless of what's happening outside.
Rely on expert assistance
No gardening knowledge? No problem! With our automated system and AI Kelby, you don't have to be a pro to grow. We'll monitor the light and water so you don't have to, and Kelby will notify you of any issues and recommend ways to keep everything running smoothly.
Take care of yourself and the environment
Gardyn isn't just good for your health—it's good for the earth, too. As an indoor vegetable garden, you won't have to worry about any pesticides or harmful chemicals. Also, our systems recirculates water, so it uses 95% less than a conventional garden.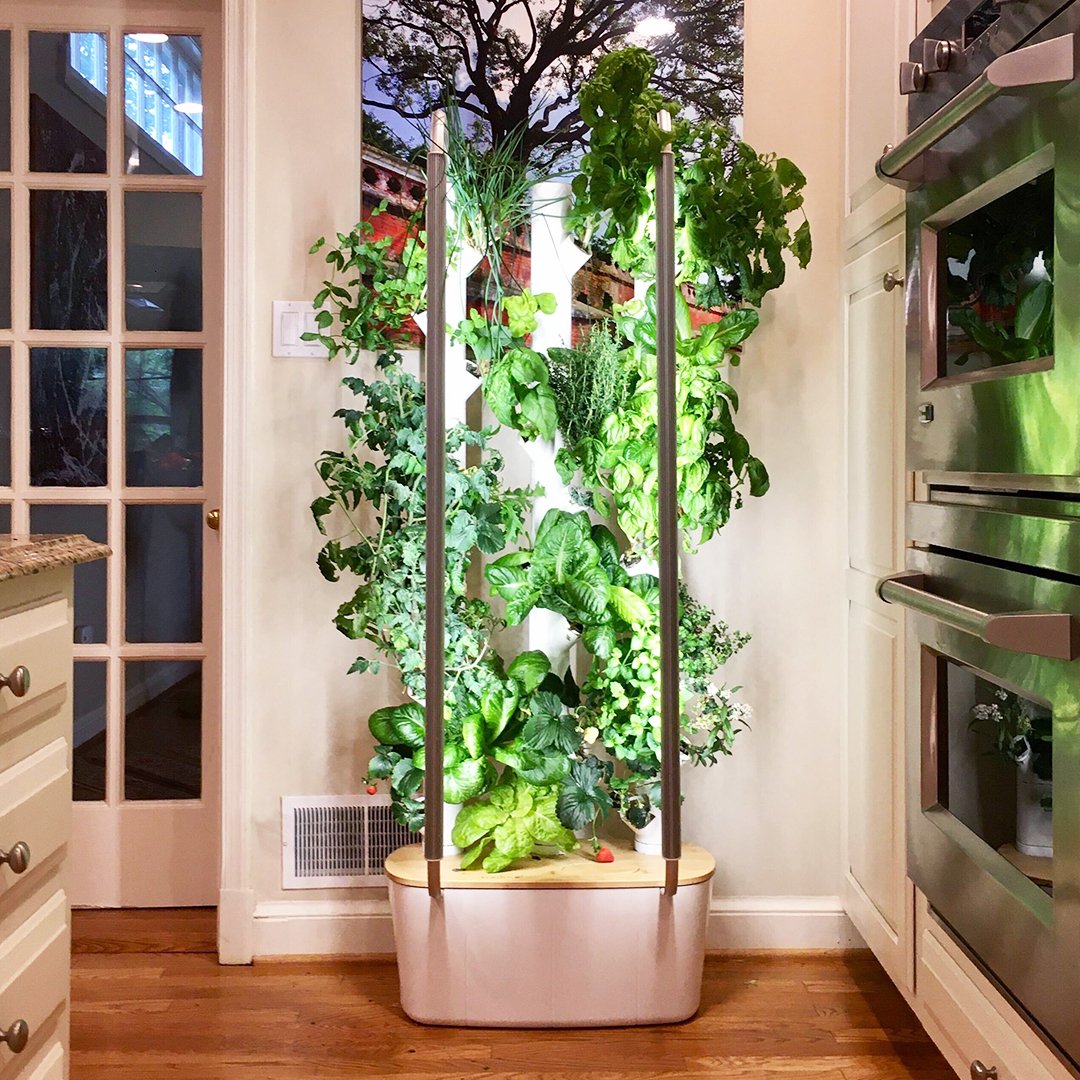 Why Gardyn's Indoor Vegetable Garden?
With Gardyn, you're getting more than an indoor vegetable garden—it's a powerful way to transform the way you eat food. Its intuitive and revolutionary design puts you in control and boosts a promising yield for your indoor gardening ventures:
Automated watering and lighting schedules, which you can customize to your preference.
Automated sensors that optimize the water your plants get at every stage of growth.
A powerful AI system, Kelby, which monitors your plants 24/7 and offers personalized guidance and advice.
Ready to Start Your Gardyning Journey?
Gardyn's indoor vegetable garden home kits are beyond simple innovations; they're destined to change our approaches to food, and with a sustainable twist. Not only will your enjoyment of eating fresh, hand-picked fruits and veggies delight your palates, but your purchase will solidify your commitment to bettering the environment.
Are you ready to make that change for yourself, for those around you, and for the environment? Visit Gardyn and see how an indoor vegetable garden can change the way you grow food starting now.
Grow Four Tasty Varieties
Simply add water and watch your greens grow from seed to harvest in as little as 7 days.
Gardyn vs Lettuce Grow
Gardyn vs iHarvest