Hydroponic Vertical Garden
Tired of weeding and tilling? Spending too much on store-bought organic produce? Want a chemical-free, healthier alternative to your favorite foods? With Gardyn, you can say goodbye to traditional, messy, and time-consuming gardening methods; and make way for a revolutionary hydroponic vertical garden system that lets you grow delicious, fresh produce — all year round.
Improved technology to boost your plants
Automated water and light schedule
Gardyn's revolutionary Hybriponic™ technology lets you pack more produce in a smaller footprint. With Hybriponics™, you can grow up to 30 large plants in just 2 square feet — one of the highest plant densities ever achieved from a hydroponic system. It's easy to set up too: all you need is a power source and Wi-Fi. With Gardyn, you're always in control. Every plant is independent from the others, featuring an effortless Plug N Play system for seamless switch-outs and harvesting. No mess, no drips, no entangled roots.
Grow something inspiring. Something amazing. Something of your own. Explore how Gardyn's hydroponic vertical gardens are right for you.
Enjoy a Delectable Feast with Fresh Produce
Every hydroponic wall garden from Gardyn is an automated, self-sustaining eco-system — one that requires no prior gardening or hydroponics know-how; all you have to do is hit the on switch and watch as your fruits and vegetables grow. You won't believe how easy it is and the benefits of having your very own hydroponic vertical garden are undeniable.
Equipped with Kelby, your very own AI Gardyning assistant, it will automatically adjust your garden's schedules as your plants grow, effectively optimizing the development process without your intervention. Kelby also uses pioneering machine vision to detect unhappy plants before they start to show ill health or any abnormalities.
Compact Size Ideal for City Environments
Gardyn's sleek, minimalist design only takes up little space while maximizing your garden space. Built from premium brushed aluminum material, a hydroponic vertical garden from Gardyn is the perfect synthesis of nature-inspired design and industrial engineering — a stunning aesthetic for any indoor quarters.
Choosing your favorite fruits and vegetables should be an easy task. And with Gardyn's hydroponic vertical garden, you should expect the seed to harvest process to last only five weeks. From kale to cherry tomatoes, cucumber to colorful salads — there's no limit to what you can grow.
With Gardyn, there's little to no waste. A vertical hydroponic system from Gardyn uses 95% less water than conventional gardening methods, uses 75W energy-efficient LED light bulbs (about the same as a desktop computer per year), contains no pesticides, and emits absolutely no CO2 emissions.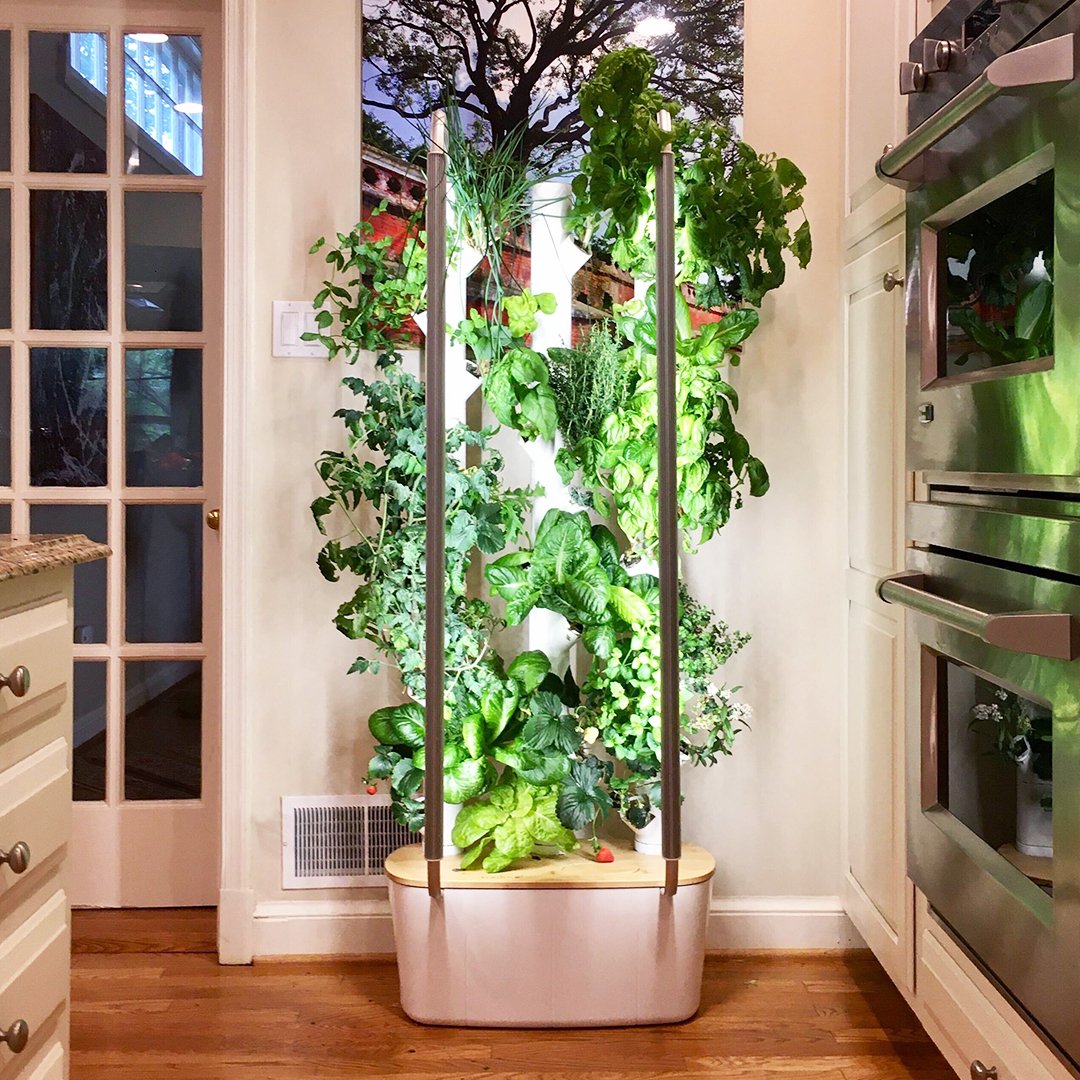 Why Gardyn's Hydroponic Vertical Garden?
Reduce your grocery bills, enjoy a bounty of healthy plants, and go completely chemical-free — all with minimal effort. Gardyn is hydroponic vertical gardening like you've never seen before. An efficient, automated, and sustainable way to grow fresh produce entirely indoors, no matter where you live (or how good your gardening skills are).
Get all the nourishing benefits of homegrown, sustainable produce, with absolutely no compromises on taste or convenience. Start your Gardyning journey today.
Grow Four Tasty Varieties
Simply add water and watch your greens grow from seed to harvest in as little as 7 days.
Gardyn vs Lettuce Grow
Gardyn vs iHarvest