Gardyn and Just Vertical are revolutionizing the indoor gardening market.
While Gardyn impresses with the latest in Hybriponic™ technology and its ability to house 30 plants in a compact design, Just Vertical marvels with its sustainable approach.
If you're trying to decide between the two, it really comes down to your gardening goals. See how Gardyn's Home Kit 3.0 stacks up to Just Vertical's Eve hydroponic gardening system.
Just Vertical vs Gardyn: Let's Start with Just Vertical
Under founders Conner Tidd and Kevin Jakiela, Just Vertical is a company on a mission to make the world more sustainable. That's why their Eve systems are made from recycled materials and utilize hydroponic technology for soil-free plant growth. Their models are a great option due to their built-in LED grow lights feature and that the vertical garden can accommodate personal seeds.
Its vertical form is ideal for small spaces and adds a sleek aesthetic to any room. Unique to them, they hold both design and utility patents on their technologies. Just Vertical also claims to have the lowest seed and pod costs, suggesting long-term cost-effectiveness.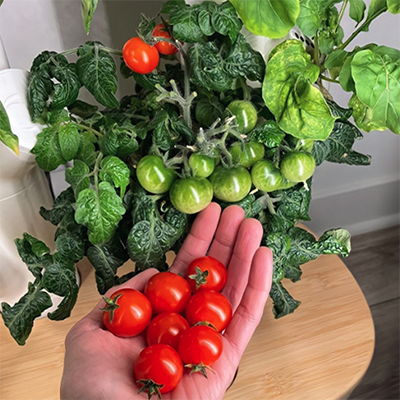 Imagine a lush, green garden inside your home. With Gardyn's Home Kit 3.0, that's possible! This AI-driven indoor garden system can grow up to 30 plants year-round and in just 2 square feet of space. Fresh, crunchy and leafy greens and herbs, ready for your dinner table, every single day. Imagine your favorite lettuce, cherry tomatoes, Thai basil, and vibrant colored flowers all packed in a small corner space by your kitchen!
Gardyn's hydroponic kit isn't your typical garden. It's a tech-savvy system with LED grow lights, cameras, and sensors. These ensure your plants get the perfect light, water, and warmth. No more guessing the right water and nutrients for your babies. The Gardyn Home Kit 3.0 takes care of it all so you can sit back and admire as your plants grow. It's essentially gardening made easy, even if you don't have a green thumb.
A personal, compact urban farm, Gardyn's indoor garden kit brings the freshness of nature right into your living room. See how this latest innovation in indoor gardening works.
Comparison Gardyn vs Just Vertical: Which One Comes First?
Gardyn and Just Vertical offer innovative solutions that turn any corner of your home into a lush, fresh-food-producing oasis. But, which vertical tower takes the crown?
Gardyn stands out with its Hybriponic™ technology, AI assistant, and eco-friendly approach, while Just Vertical offers a solid, albeit less feature-rich, solution for homegrown produce.
Here are some key features of Gardyn that make it stand out:
Hybriponic™ technology
Kelby™ assistant which delivers on providing optimal care for your vegetables, fruits, and herbs.
Compact and stylish design that can fit in any small space
Vacation Mode™ which takes care of your plants while you're away.
As you ponder over these points, consider these questions:
Would you prefer a gardening system with an built-in AI assistant to guide you through the process?
Are you interested in growing various plants at home?
Do you want to continue to focus on sustainability by using less water and energy for gardening?
If your answers to these questions are 'yes,' then Gardyn appears to be the perfect match for your indoor gardening needs. It showcases a compelling mix of smart technology, eco-friendliness, and high yield, making it a top pick for modern, conscious consumers. Just Vertical, while also being a good system, it lacks the AI assistance and the eco-friendly approach that Gardyn offers.
At Gardyn, we're transforming the way you garden with our Hybriponic™ technology. Each plant gets its own reservoir, saving you 95% of water compared to traditional gardening. And, we've made sure each plant's roots are contained in soil free seed pods to ensure zero mess while harvesting and rearranging. With us, homegrown produce is effortless and sustainable.
Kelby™ Assistant with Gardyn App
Working 24/7 through cameras and sensors, Kelby is like a master gardener snugly tucked into your back pocket. We rely on it to control watering and help your plants get the necessary nutrients they need. Kelby also provides personalized tips, ensuring our Gardyn thrives around the clock. With Kelby, we're all green thumbs up.
Compact and Stylish Design
With a durable rubberwood lid in a rich, dark finish and space gray LED lights, we've created a sleek and aesthetic smart garden kit. It's not just gardening, it's a lifestyle statement. Experience the fusion of function and style with the Home Kit 3.0.
With Gardyn's innovative Vacation Mode, time is very much on your side. Our unique technology, steered by Kelby, expertly manages your plants' growth via self-watering for up to two weeks to give them the support they need to flourish. So, you can return home to fresh, ready-to-eat produce.
Selecting the Best Home Garden System
Gardyn outperforms Just Vertical in the garden indoor plants space. Its high-density planting system, housing up to 30 plants, maximizes productivity while minimizing space. The noise-free pump ensures a peaceful environment. In addition, its price is affordable and you're sure to make additional savings with each bountiful harvest.
Key benefits of Gardyn:
High-density: Grow up to 30 plants in only 2 sq. ft.
Quiet operation: No disturbance from a water tank or noisy pumps.
Aesthetic design: The BPA-free vertical stand is safe and visually pleasing.
Choose a new and better approach to how you view food. Look no further than the Gardyn Home Kit 3.0 for a superior, efficient, and enjoyable indoor gardening experience. Add yours to your home today and start an indoor gardening journey that everyone can enjoy.