How many times have you had to toss a bag of lettuce you bought three days ago? Too many? Same.
If you're here, you've probably heard about hydroponics – a big word, but not a scary one. Read on to better understand what these systems are and which is best for you.
Automated or self-watering
Can grow microgreens/baby greens
Can grow plants over 2 feet tall
Constructed with food grade, UV-stabilized, recyclable, BPA-free plastic
AI-powered monitoring, optimization, and plant coaching
Membership option that gives access to free plants and food each month, Kelby Assist, Vacation Mode, exclusive plants, and support from our live growing experts.
Timelapse videos of plant growth
Modular design that allows for easy plant arranging
AeroGarden vs. Gardyn, Let's Start with AeroGarden
AeroGarden is a company that builds and sells indoor hydroponic structures. But what does that really mean? Hydroponic gardening uses water instead of soil to grow plants quickly and easily. Plus, it saves 95% more water compared to traditional gardening. You'll have fresh, chemical-free veggies and herbs right in your kitchen. AeroGarden's largest system houses up to 24 plants, and offers a selection of herbs, lettuce, greens, and tomatoes. But what if you want even more variety in your garden? Or, what if you're totally new to the gardening game and need more guidance?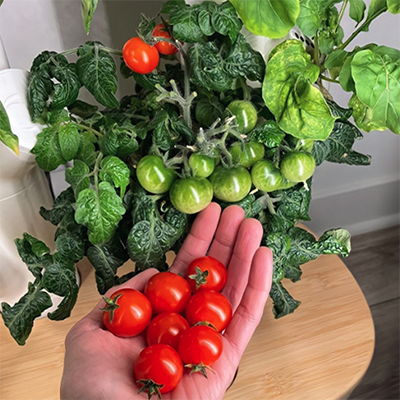 Learn More about Gardyn and How it Works for You
AeroGarden vs. Gardyn: two companies providing accessible, fresh, delicious produce while promoting sustainability and nutrition. However, Gardyn offers the only AI-powered indoor garden (robots…more on that later) that grows 30 plants year-round, no green thumb required. Explore the impressive 80+ varieties of fresh and flavorful plants that Gardyn offers. Whatever plants you choose, the Home Kit 3.0's patented technology and aesthetic design will help them thrive and ensure your home looks beautiful – not like a garden shed. As a bonus, you'll save up to $250 on your grocery bill – Gardyn's personalized savings calculator can give you and exact estimate.
Gardyn vs. AeroGarden: What are the differences?
AeroGarden's Farm 24XL grows 24 plants in 2 square feet of space. In the same space, Gardyn's Home Kit 3.0 grows 30 plants, without soil or a water line. Made with recyclable, BPA-free plastic, the Home Kit uses just 54 kWh of energy a month, versus AeroGarden's 91 kWh per month. What else can you expect with the Home Kit?
AI-powered optimization and coaching;
Modular design for easy arranging;
Humidity and temperature sensors;
Ability to grow microgreens– a superfood!
Still unsure? Click to directly compare the Farm 24XL to the Home Kit 3.0.
AeroGarden may be a great choice for new indoor gardeners. But Gardyn provides even more possibilities, with more support.
Plug N Play Design For No Mess
Smart sensors and cameras monitor your plants' vital signs and growth. This data will tell you how to help your plants, and also inform Kelby – your AI-Powered Assistant. Kelby looks after the garden 24/7, tracking its temperature, humidity and water level. You'll get round-the-clock help and personalized recommendations every step of the way.
Put it in Vacation Mode – you deserve it!
Vacation Mode uses AI tools to care for your plants while you're away. You can go on vacation and manage your life without having to do more than press a button. Vacation Mode pauses the growth of plants and keeps them on auto-pilot to stay fresh for up to two weeks.
The new Home Kit 3.0 is even easier to clean than previous models and other models on the market. With a fully redesigned watering system, it's easy to connect and disconnect the columns for quick cleaning. The HydroBoostTM keeps the environment healthy automatically, reducing the need for cleanings. Clean food, clean home!
Your Home Kit will also feature Plug-N-Play light bars and columns. That means no screws and no tools. Your kit is easy to assemble and you can get growing (and eating) before you know it! These light bars also include full spectrum grow lights that help all plants grow better and faster.
Let's Finish Up and Get Started With Gardyn
So now that you've explored your options, AeroGarden vs. Gardyn, we'll get to the point — Gardyn's Home Kit 3.0 has it all:
Selected as a TIME Best Invention of 2020;
Most-advanced home hydroponic system to date;
Optional membership with 30-day free trial (sign up here!);
30-plant starter set;
Plant food & accessories;
In-app device control;
And a 60-day return policy.
Food is part of our everyday lives. Choose food that is more nutritious and better for our planet. Choose a system that works for you, your lifestyle and your budget. Choose to eat more healthily, sustainably, and save money while doing it! Get your Gardyn, and get started.