When you think of gardening, you might picture someone wearing a sunhat in a backyard under the sun with tomato plants and sunflowers all around them. Sounds nice! But we don't always think about the many types of produce that can be grown indoors. Yet, indoor gardening is an ideal and beneficial alternative to traditional gardening that, if you're here, you've probably heard of and have an interest in trying. But, it can be a bit overwhelming to start from scratch. We promise that it's a lot simpler than it seems, and the pay-off is well worth it.
We're here to guide you through all the steps to consider and provide you with useful tips and tricks to show you the many benefits of innovative indoor gardening for beginners.
In this article, we'll take you through all the basics to learn, including:
What is an indoor growing medium and its benefits;
Why to choose indoor gardening;
How to take the first steps in indoor gardening for beginners;
What you can grow with an indoor gardening system;
Why Gardyn's indoor gardening system kits are the most advanced on the market.
All you need to grow for as low as $29/mo​
Let's start with indoor gardening systems and how they work. Indoor gardening can be done through hydroponic systems which is a method for growing plants, herbs, and/or fruits using water and nutrients, without the need for soil. Growing plants and produce this way has many benefits – hydroponics requires less clean-up, less water and less space than traditional gardening. By using an innovative indoor gardening system, you can also reduce labor, reduce your environmental footprint all the while producing tons of high-quality food.
Sustainable and Environmentally Conscious
Uses 95% less water than traditional gardening;
Free of pesticides and other contaminants;
Reintroduces nature into urban environments.
Fits Busy Lives and Urban Homes:
The AI-powered system on the Gardyn Home Kit 3.0 monitors plant needs and provides optimal plant care 24/7;
LED lighting supports plant life anywhere;
Plants grow vertically without soil ⎯ saving space and clean-up;
Modern design contributes to plant growth and home aesthetic.
Ultimately, indoor gardening allows you to have fresh, nutritious, and sustainable food in your home ⎯ with less effort than traditional outdoor gardening. Even if you're a total beginner to indoor gardening, we'll make sure you have everything you need to start growing delicious, organic and healthy food in your own home.
Curious to know how Gardyn's Home 3.0 is the one model that's right for you? Check it out and take a look for yourself!
Now, choose between 7 different flavor-packed varieties.
How to Start an Indoor Garden?
Trust us, there aren't that many steps, but there is some careful thinking that goes into the process so that you can enjoy different and fresh fruits, vegetables, and herbs in a matter of weeks.
Your indoor garden is going to be the highlight of your home, which is why design is so important among other things. Luckily, the modern design of the new Gardyn Home Kit 3.0 allows you to grow plants vertically. Your garden makes the most of any small space and can fit almost anywhere in your house (or apartment) and takes up minimal floor space. The LED grow lights will ensure that houseplants get all the light they need, without being near a windowsill or direct sunlight. You don't even need to attach a water line ⎯ all you need for your indoor garden is a spot against the wall (i.e. your kitchen, common room, or corner space) with a power outlet and a WiFi network. Indoor gardening for beginners couldn't be easier!
Now the fun part ⎯ choosing your plants! You can grow anything from greens, to flowers, to herbs, to fruits and veggies. Our starter kit comes with 30 pre-selected plants, but you can always add more with the yCubes. These containers offer more than enough choice with over 80 varieties so you try something new or replace a plant from your starter kit. All the offered varieties have been rigorously tested to help even beginner indoor gardeners to harvest the tastiest and most beautiful plants and produce.
Want Plant That Will Provide Multiple Harvests?
You can opt for over 25 varieties of leafy greens from our yCube portfolio if you prefer a plant that can offer multiple harvests rather than quick results. The choice is yours!
Once you have chosen a spot in your home and picked out your plants, you can start assembling your garden. The AI-powered indoor garden has been reengineered for easy assembly and cleaning. With the Plug N Play Design, light bars and columns can be installed and removed quickly without screws or tools. You don't need water, potting soil, or pots ⎯ it almost doesn't sound like gardening! But you'll end up with just as good and fresh produce as you would in a traditional garden.
Okay, now this is really the best part. Sit back, and watch your garden grow! If you're new to indoor gardening, or gardening in general, it's thrilling to watch plants thrive under your care. Through the hydroponics process, plants grow quickly and no matter the season. It can be summer or winter months; your plants will flourish year-round. Depending on the growth rates of the indoor plants you choose, you can expect optimal root growth within a few days and harvests within weeks. When it's time to harvest, you can do so easily and without the mess thanks to the Plug N Play design. Then, all you have to do is enjoy eating your produce! Yum. Yum.
What Can I Grow In An Indoor Garden?
All of Gardyn's plant offerings come in yCube pods that are simple to use and install, so you don't have to worry about starting from scratch (or seed). With our solutions, say good-bye to fertilizers and other planting aids used to accelerate the growing process! Also, root rot and other diseases are things of the past. Even though we're discussing indoor gardening for beginners, you'll quickly feel like an expert with all these impressive and eclectic range of herbs growing in your garden.
We've all been guilty of throwing out supermarket lettuce that has gone bad too quickly ⎯ indoor gardening will help you waste less and enjoy your produce more. Gardyn offers extensive options for leafy greens, from the most popular, arugula and kale, to ones that may be new to you, like wasabi greens, microgreens, and buttercrunch.
Gardyn's membership program includes 10 monthly plant yCubes, meaning you can try new varieties of greens every month if you want to. Whatever type you choose or if you're indoor gardening as a beginner, your greens are guaranteed to be delicious, nutritious, and easy to grow.
Under Gardyn's fruit and veggie offerings, you'll find everything from peppers to cherry tomatoes. Speaking of peppers, you can choose from a whopping eight varieties, including jalapeños. and bell peppers. These fruits and veggies can be grown year-round without the help of preservatives or chemicals.
Even on a winter day, you can enjoy a bowl of fresh strawberries that have been organically and sustainably grown. Like all of Gardyn's plant offerings, the strawberries come in an easy-to-install yCube. However, the Strawberry yCubes aren't just seeded, but contain a rooted strawberry plant that will spring up within days of being planted. You won't have to wait long for delicious, fresh strawberries, no matter the time of year.
So far, we've talked about lots of tasty produce you can grow. Equally exciting (and sometimes edible) are the flowers you can grow with your Home Kit. There's nothing quite like having fresh flowers in your home, whether you want to brighten up your space or use flowers for practical usage. Due to the vertical design of the Gardyn system, you'll be able to grow larger flowers up to their full size.
You can make fresh chamomile tea, soothe yourself to sleep with some lavender, add calendula to your first-aid kit, or make a bouquet with petunias. See the ever-growing (get it?) selection of flowers offered by Gardyn here.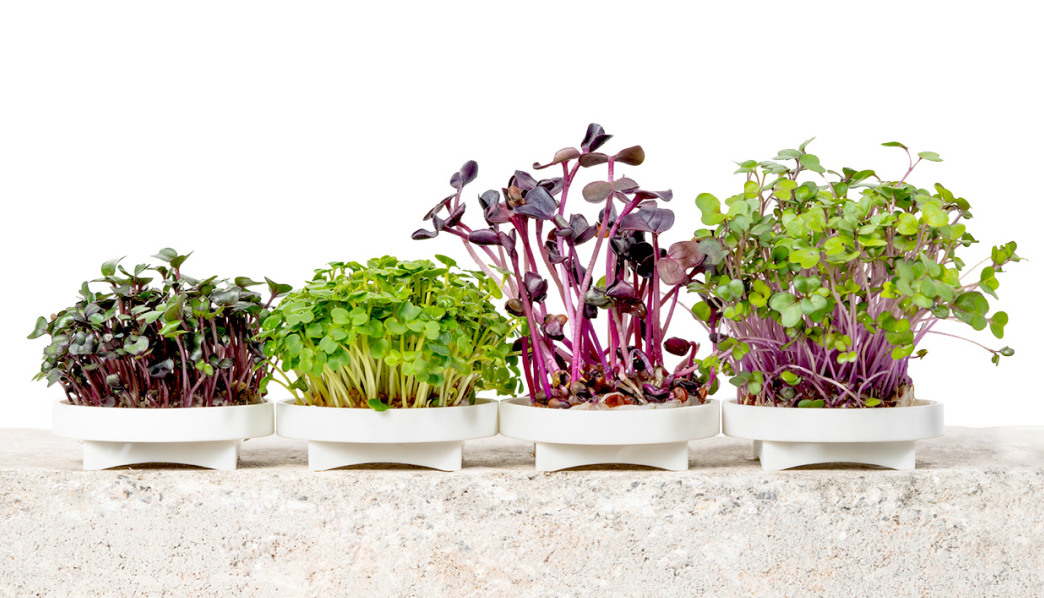 Bite sized superfood packed with nutrients and loaded with flavor. Go from seed to harvest in just one week.
Begin Your First Indoor Garden At Home With Gardyn
Whether you have the greenest thumb around or are a total beginner to the indoor gardening game, Gardyn is a great place to start! It is a simple and innovative system to try out indoor gardening for beginners.
With a Gardyn membership and your first Home Kit 3.0, you can:
Choose from 80+ plant varieties or grow your own seeds;
Customize your first order to suit your needs;
Get support from Gardyn's on-staff plant experts;
Grow 8-10 pounds of pesticide-free and GMO-free produce per month.
In addition to these benefits, Gardyn's innovative technology makes your life easier as a beginner to indoor gardening. The Garden Home Kit 3.0's AI-powered assistant uses smart sensors and cameras to monitor each plant's vital signs, detecting any issues with humidity and moisture while monitoring temperatures (avoid extreme heat or a cold environment) and required watering to ensure optimal health for your plants' roots and budding green oasis. Even when you're out of town or life's gotten crazy busy, you can use Vacation Mode to pause plant growth and still keep them fresh for up to two weeks.
Get started and live a healthier and better life. Sign up for a membership and, in less than 10 days, you can experience the pleasure of cultivating your first sustainably-grown harvest.