Indoor gardening is trending, and hydroponic systems like Gardyn and Nutraponics are leading the way. These two innovative technologies are redefining how we grow plants at home. But which is best for you?
Dive into our comparative review to see how Gardyn's Home Garden Kit 3.0 stacks up against Nutraponics Garden Tower Growing System.
Nutraponics vs Gardyn: Let's Start with Nutraponics
Nutraponics offers a different approach in the realm of indoor gardening. Its standout vertical design isn't just an eye-catcher, it also makes the most of your space. This system's key feature? It's fully automated, freeing you from constant tending and making green thumbs out of us all.
Nutraponics takes traditional hydroponics up a notch with NFT (Nutrient Film Technique), ensuring your plants are always fed with nutrients and CO2 for peak growth. With its modular design, easy installation, and 48 slots for your budding plants to go grow, Nutraponics provides an ideal solution for those who are looking to start indoor gardening.
But remember, gardening isn't a one-size-fits-all approach. While Nutraponics could be your indoor garden dream come true, others might find their bliss in different systems.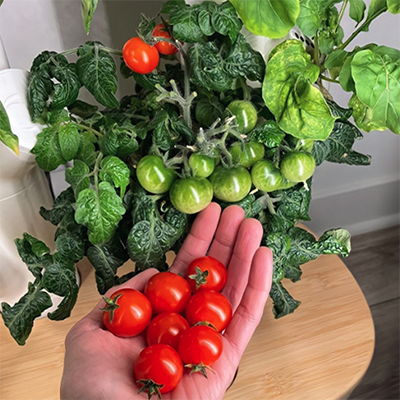 Unleash your inner green thumb with Gardyn Home Kit 3.0. This US-born marvel, using its patented Hybriponics™ technology, is revolutionizing the way we grow food indoors. Occupying only a small space (2 sq. ft.) to grow up to 30 plants, imagine having a mini garden in your home, sprouting fresh fruits, veggies and herbs, requiring only minimal space, effort, and upkeep.
Just plug it in, connect to Wi-Fi, launch the Gardyn app, and voila – you're a gardener. No more wrestling with traditional indoor farming. With Gardyn, your humble abode transforms into a lush oasis, dishing out nutrient-packed produce all year round. Curious to know more? See how this indoor gardening system works.
Gardyn is an all-in-one hydroponic indoor garden system that leverages smart technology to automatically manage the cultivation process. It delivers everything you need to start growing your own food in weeks, from plant seeds and plant food to LED grow lights. The Gardyn Home Kit 3.0 can even grow up to 30 full-size plants. This system is popular for its intelligent lighting, watering, and Hybriponics™ technology.
While both systems have their merits, Gardyn stands out for several reasons:
Automation;
Capacity;
Speed;
Intuitiveness.
While Nutraponics offers a more traditional indoor gardening experience, Gardyn's advanced technology and comprehensive kit make it the superior choice for those looking for a convenient, high-capacity indoor gardening solution.
Complimentary Plants are Part of the Package
The Gardyn Home Kit 3.0 starter set is loaded with 30 free plants. You also get to choose from an array of lush greens like kale, radiant sunflowers, or aromatic holy basil. It's a cornucopia of freshness, ready to thrive under your care, right from day one.
Programmed Schedule for Watering and Lighting
Gardyn's recently introduced growth modes to intuitively automate your plant's watering and lighting needs. Tailor these settings to harmonize with your lifestyle, and watch your green companions flourish effortlessly.
Assistance with Kelby Automated Care
Experience the magic of automation with Gardyn's indoor hydroponic garden kit, powered by Kelby, your virtual assistant! It's a self-sustaining plant care specialist that caters to your plants' every need. Enjoy automated watering, lighting, and round-the-clock personalized care.
Take a Vacation and Return to Perfectly Grown Plants
Jetting off? No worries! With Gardyn's innovative Vacation Mode™, your greens continue to thrive, even when you're away. This cutting-edge technology nurtures the right amount of water and nutrients your plants for up to 2 weeks, ensuring you return to a bounty of fresh, ready-to-eat produce.
Final Verdict: Gardyn Home Kit 3.0 vs. Nutraponics
The Gardyn Home Kit 3.0 offers a compelling blend of smart technology and user-friendly design that clearly sets it apart from Nutraponics. It's clear that Gardyn emerges as the superior choice. Here's why:
Superior Tech: Gardyn boasts advanced technology for optimal plant growth.
Space-Efficient: Its sleek design takes up minimal space, perfect for any home.
Easy to Use: The user-friendly interface makes setting up and maintenance a breeze.
Great Variety: Offers a wider selection of your favorite fruits, vegetables, and herbs including cherry tomatoes, Thai basil, and lettuce.
High Yield: Expect a more abundant harvest all year round with Gardyn.
Start your indoor gardening adventure and add the Gardyn Home Kit 3.0 to your home today.