Fresh, nutritious food is essential for human health and well-being. At Gardyn, it's our mission to make it as accessible and sustainable as possible. For today and for the future. 
We're excited to have developed a revolutionary technology that gives everyone access to healthy food. We want this technology to serve everyone, including underprivileged communities. Creating G3 allows us to identify amazing projects, donate a total of 20 Gardyns to boost their individual missions, and showcase what these organizations are doing to help their communities.


Our hope is to multiply the impact of the collective good that is being done around the world.
We are proud to announce the first recipients of the G3 Initiative: Gardyn Grows for Good. These organizations, schools, and individuals are committed to helping their communities in whatever capacity needed, anchored in providing the basic needs for those who need it most.
Get to know the amazing humans working to make an impact. Gardyn looks forward to giving each and every one of them a positive planform to spread the word about their individuals missions. And, we will continue to provide updates as they make a positive impact on their communities and grow with Gardyn.
Together we can take small steps to make sustainable change in every area of our lives!
Agora Cyber Charter School
Location: King of Prussia, PA
Who they serve: Kindergarten students
What they do: Learn about living organisms, plants, and nutrition in a cyber classroom.
A bulk of students in the United States attend remote school, whether by preference or for health-related concerns. Agora elementary teacher Angelica Bronson is feeling the challenges virtual learning poses and is dedicated to finding more "hands-on" science and STEM activities to ramp up her Kindergarten curriculum. Getting creative about establishing community is important to Bronson. Five-year-olds love to share a sense of collective purpose, which is crucial for social-emotional growth in the classroom. As Bronson and her students embark on learning, Agora's mission includes offering innovative and intensive academic preparation to encourage life-long learning
Allegany College of Maryland Food Pantry
Cumberland, Maryland
Who they serve: Students of Allegany College
What they do: Provide financial and food donations to students in need.
In 2018, faculty, staff, and administration at Allegany College of Maryland began to see financial hardship segue into food insecurity for many students. Responding to the needs of their community, funding was acquired to create a food pantry on the college campus. While over 650 students have been supported with relief pantry offerings, ACM is looking to take the next step to evolve its program. After a successful two years, the team strives to empower students with knowledge of nutrition and the opportunity to implement fresh food into their daily lives.
San Francisco, California
Who they serve: Homeless community members in San Francisco and Santa Barbara
What they do: Dignity Moves reimagines unsustainable systems and provides support to communities that don't have access to basic resources – specifically, temporary and safe housing for the homeless population in California. 
In 2020, a group of concerned business leaders in San Francisco, California, was moved to find a sustainable solution to support the unsheltered members of their community. Certain the problem would only be exacerbated by the pandemic, they wanted to get struggling citizens out of the limbo between homelessness and permanent housing. Rallying their talents and resources, this group of tenacious community servants founded DignityMoves. This initiative provides safe and dignified housing to allow residents to move out of survival mode and give them a chance to rebuild their lives.  
Tacoma, Washington
Who they serve: Families in Tacoma and Pierce Counties in Washington
What they do: Promote sustainable and locally grown food through Food Independence Gardens (FIGs) around the city of Tacoma.
Like many U.S. citizens, David Thompson was shocked at the drastic disruption of the food supply chain by the COVID-19 pandemic. As he watched his fellow community members struggle to access basic food, David decided to take action and created Food is Free Washington – a local initiative to provide life-sustaining nutrition to needy families. David and his team of volunteers are committed to growing 20% of all their fruits and vegetables locally. Food is Free Washington was also awarded a grant from AARP and installed 20 throughout Tacoma.
Hunting Beach, California
Who they serve: Homeless and extremely low-income students
What they do: The culinary arts program at Ocean View High School helps teach students located in a food desert about the varieties of fruits and vegetables available and how to appreciate and execute a sustainable way of living.
It's frustrating and heartbreaking when you're an educator and over 63% of your students are socioeconomically disadvantaged, homeless, and foster youth. Culinary arts teacher, Rochelle Van der Merwe serves at Ocean View High School in Huntington Beach, California, teaching her kids the basics skills of cooking and baking. Looking to impact her student's lives with a healthier future, Van der Merwe hopes exposure to nutritious options will continue to impact their daily lives after they graduate.
NYC Department of Education: PS161 The Crown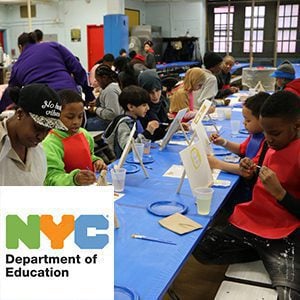 Crown Heights, Brooklyn, NYC
Who they serve: Elementary School students
What they do: Educate students and prepare them for college and beyond.
In the heart of an urban food desert, teacher Carlos Varas has witnessed his students at PS161 The Crown have a sugar crash in the middle of the day. Frustrated that options for fresh food are scarce in their community, Varas, like so many educators, is moved to make a profound impact on his students' lives beyond the basic curriculum. Honing in on healthy eating, Varas is excited to introduce students to new foods and let them harvest and share nutritious options with family members.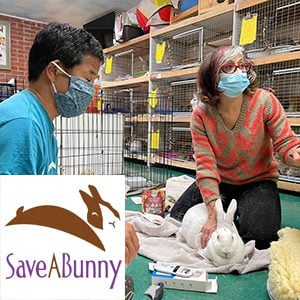 Mill Valley, CA
Who they serve: Domesticated rabbits
What they do: Rescue, treat, and heal severely wounded, traumatized, abused and neglected rabbits facing imminent euthanasia.
Save a Bunny founder Marcy Schaaf has been running her animal rescue organization since 1999 – funded completely on donations. Specializing in the care of rescued domesticated rabbits, Schaaf and her team have witnessed heartbreaking scenes obtaining furry friends at their California facility. Yet their mission is a hopeful one as they serve both people and animals in their community through adoption, advocacy, education, outreach and rescue options.
Washington State & Oregon
Who they serve: Underprivileged children and teens
What they do: Provide scholarships for culinary training and education for students who don't have access to creative programs.
Acquiring life skills can be met in a variety of different ways. For the children who engage in the Silver Linings culinary program, cutting, chopping, slicing, and dicing are merely foundational strategies for success in the kitchen. Beyond long-term nutritional education, participants learn problem-solving, cooperative learning, independence and communication skills. Active in the community since 1997, Michael Silver, founder of Silver Linings, launched the youth-based culinary arts program with the hopes of helping kids learn about food and nutrition, and develop good eating habits.
Congratulations to all the G3 Recipients! If you are interested in being notified when the next application period begins, sign up using our form below.