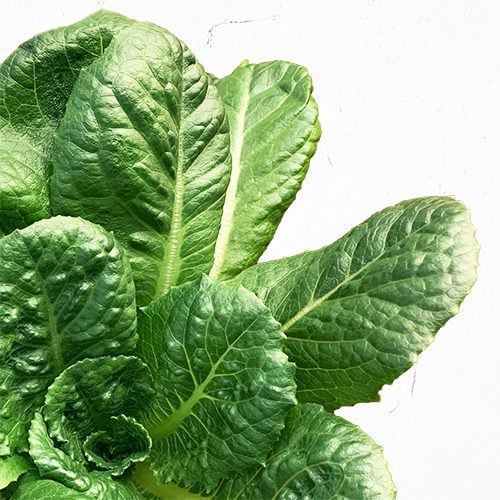 Pick individual leaves or wait and harvest full heads.
For ongoing harvest, you can begin harvesting once the leaves reach about 4 inches tall. Harvest the outer leaves of the head and let the inner leaves continue to grow and mature. Just snip either single outer leaves or grab a bunch of them and cut them with scissors one inch above the base of the plant. Be careful; if you cut into or below the base, the plant may die, so leave the small leaves in the middle to regrow easily.
Do not cut more than a third of the plant in you want it to keep growing.
Romaine is also called "cos" lettuce, because it is thought to have originated on the Greek island of Kos. Romaine is an incredibly popular salad greens for its firm crunchy texture and mild, sweet flavor. This variety, Paris Island Cos, was bred in the 1950s by USDA and Clemson university.
Lettuces are particularly high in vitamin A and in Potassium, which supports blood pressure, cardiovascular health, bone strength, and muscle strength.
Romaine is a popular lettuce for salads, taco shells, sandwiches, and wraps.
6 anchovy fillets packed in oil, drained
1 small garlic clove
Kosher salt
2 large egg yolks
2 tablespoons fresh lemon juice, plus more
¾ teaspoon Dijon mustard
2 tablespoons olive oil
½ cup vegetable oil
3 tablespoons finely grated Parmesan
Freshly ground black pepper
3 cups torn 1″ pieces country bread, with crusts
3 tablespoons olive oil
3 romaine hearts, leaves separated
THE DRESSING: Chop together anchovy fillets, garlic, and pinch of salt. Use the side of a knife blade to mash into a paste, then scrape into a medium bowl. Whisk in egg yolks, 2 Tbsp. lemon juice, and mustard. Adding drop by drop to start, gradually whisk in olive oil, then vegetable oil; whisk until dressing is thick and glossy. Whisk in Parmesan. Season with salt, pepper, and more lemon juice, if desired.
THE CROUTONS: Make your own. Tearing, not cutting the bread ensures nooks and crannies that catch the dressing and add texture. Preheat oven to 375°. Toss bread with olive oil on a baking sheet; season with salt and pepper. Bake, tossing occasionally, until golden, 10–15 minutes.
THE LETTUCE: Use whole leaves; they provide the ideal mix of crispness, surface area, and structure.
THE CHEESE: Caesars crowned with a mound of grated Parmesan may look impressive, but all that clumpy cheese mutes the dressing. Instead, use a vegetable peeler to thinly shave a modest amount on top for little salty bursts.
THE ASSEMBLY: Skip the tongs. Use your hands to gently toss the lettuce, croutons, and dressing, then top off with the shaved Parm.